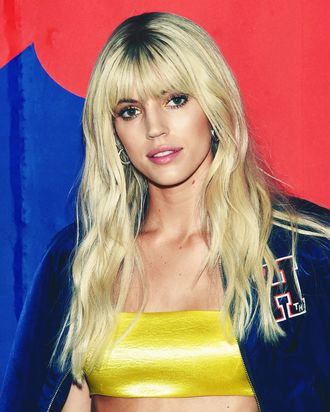 Devon Windsor.
Photo: Jamie McCarthy/Getty Images for Tommy Hilfiger
When Victoria's Secret model Devon Windsor joined a conversation between models of color on last Thursday's episode of E! show Model Squad, she quickly became defensive when she discovered that the women were talking about diversity — and rightfully claimed that she, a white woman, could not relate. Eager to prove that she, too, had struggled against oppressive forces in her life, Windsor cried out that it's not easy being blonde because she has to "get a highlight every month." She has since apologized.
The baffling back-and-forth, which was primarily between Windsor and model Ping Hue, occurred on the fourth episode of Model Squad, a New York Fashion Week docu-series from E!. While Windsor didn't seem uncomfortable when the models were talking about facing discrimination, she quickly became aggravated when Hue told her that it was "super hard to relate to" them.
"I literally fucking went through hell," Windsor asserted, because she lived in "different countries every other month" for two years. This, she claimed, was an incredibly trying experience for her because she didn't speak Italian or "Paris." And then, for reasons that are unclear, she brought up how difficult it is to maintain her hair color.
"You know how hard it is to be blonde?" she asked rhetorically. "I have to get a highlight every month!"
On Sunday, Windsor issued an apology via a Notes app statement posted to Twitter, saying that she has great respect for "all of those breaking barriers and working to forge a new and more inclusive community both in and outside of the modeling industry."
"If a peer of mine wanted to discuss such a serious subject about the struggles we face, I would never follow it with a joke," she wrote. "I have an immense amount of respect for my peers, and I know the struggle of diversity and inclusion in my business as well as in so many others, is not one to take lightly. I'm even more disappointed that my comments could lead anyone to believe that I have a prejudicial bias."
This story has been updated.