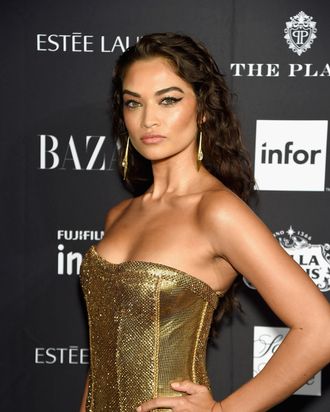 Shanina Shaik.
Photo: Dimitrios Kambouris/Getty Images for Harper's Bazaar
Hours before the sensational feud between Nicki Minaj and Cardi B at the Harper's Bazaar Icons party, which Shanina Shaik would attend, the model sat in her room at the Plaza Hotel in an amiable mood. Her makeup artist Victor Henao was carefully drawing sharp, dramatic lines on her eyes. "I came out of the shower tonight and black mascara and eyeliner was running everywhere," she laughed. "I find that less is more sometimes. You want to have something on your face that's a hero."
Henao chimed in: "Her look is created with Estée Lauder 100% Double Wear water-fresh makeup to give her that super-glowy, natural, effortless skin. And then it's all about Little Black liner and Sumptuous Extreme mascara." To keep the attention on her eyes, he used Pure Color Envy Sculpting Lipstick in Insatiable Ivory for a nude and natural lip. "It's like my favorite lip color," he says.
Before heading to the party downstairs , Shaik spoke with the Cut about her incessant moisturizing, Netflix, and her favorite lipsticks. The 27-year-old grew up modeling in Australia and moved to New York with a modeling contract at age 17. She's currently starring in the docu-series Model Squad on E!.
You've been very vocal about your anxieties in this high-pressure industry, and about looking ethnically ambiguous. Can you talk about that?
When I was I high school I was bullied and that was really tough for me to go through. It was mental abuse. I stopped going to school. But my mum was by my side and she helped me get through it. That experience helped me deal with the competitiveness of the modeling industry. It still gets difficult at times. There's a lot of insecurity. You deal with a lot of rejection, so you have to be super strong. Once I learned more about myself and who I am, and surrounded myself with a great supporting team, the anxiety became less. But I still have insecurities, like anyone else.
Even recently, this year, I was like: I think I might quit modeling, I don't know if I can do this! It's hard. But I have an amazing support team around me, and I find meditation helps. I think about the experience of being bullied at a young age, feeling low and insecure about myself. I know that if I dealt with that I can deal with anything. Knowing that helps.
How did you become interested in beauty?
I've always had oily skin and I dealt with really bad acne when I was younger. Trying to find how to get perfect skin has became a passion of mine, even in my castings! They're like, What do you do for your skin? And I tell them a list of things they could do and what could work. Sunscreen is really important to wear every day to protect your skin. Also, always take your makeup off at the end of the night or during the day. I moisturize day and night. I'm never not moisturizing. I have to have moisturizer with me.
What three products are you obsessed with right now?
My moisturizer from Barbara Sturm. My concealer from Nars. And Pat McGrath has these new colors of lipsticks — I'm obsessed. I love all her lipstick tones.
What do you like to do in your down-time, when you're not heading to a big event like this?
I like to do nothing. Really! I'm so busy and running around. With the fast-paced life and job that I have, I just want to relax and catch-up with my husband and my friends, and do normal things like laundry and Netflix and chill. That's what I like to do. And read.
I've binge-watched everything and I've run out of things to watch right now. So if you have suggestions, please tell me! Last night I was watching The Breakfast Club. I watch a lot of cooking shows. I'm pescatarian, and I try to eat vegan as much as I can. I'm very good at making a lot of seafood. I cook Jamaican food as well and I make a good snack bar.
This interview has been edited and condensed. New episodes of Model Squad will air Monday through Friday at 8 p.m. ET/PT on E!.