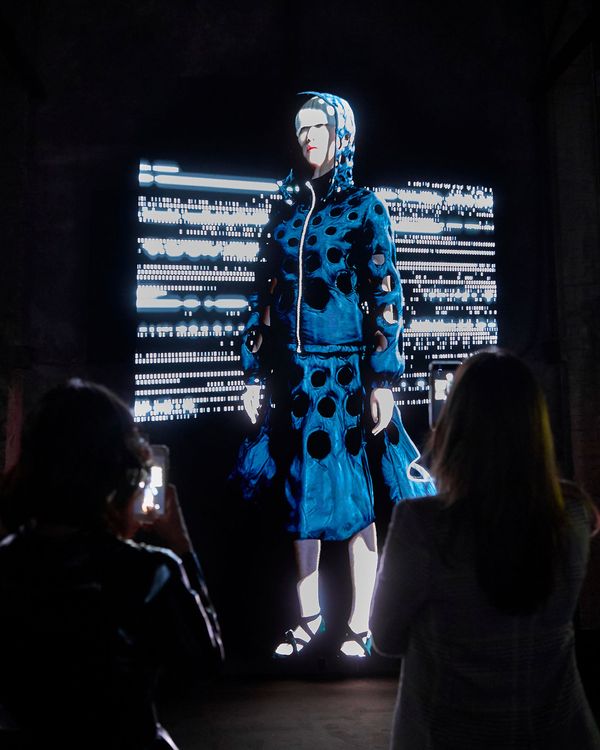 Guests filming a video of Kei Ninomiya x Moncler.
Photo: AGOSTINO OSIO/Courtesy of Moncler
"There are no clothes here!"
I yelled this to a friend over the unz, unz of heavy bass on Wednesday night. It was the end of the first day of Milan Fashion Week, and I found myself wandering around the new Moncler Genius Building, a dark, cavernous industrial space on the outskirts of the city. In lieu of a traditional presentation this season, the brand projected five different videos of its new, eight-part "Genius" collection onto concrete walls. Models attended only as guests.
"I think it's an experience!" my friend yelled back.
At first, I thought he was joking. "Experience" has become something of an empty buzzword used by brands to get you in the door, along with "innovative" and "immersive." At New York Fashion Week, there were a range of innovative, immersive experiences – from a post-human pop-up to a heartwarming drag show. But my friend wasn't joking. He also wasn't wrong: I was having an experience, and a pretty cool one.
Last season, Moncler launched its Genius collaboration with four fashion masterminds: the Irish designer Simone Rocha, Valentino's Pierpaolo Piccioli, menswear designer Craig Green, and Comme des Garçons–adjacent designer Kei Ninomiya. There were not only real-life clothes to be found at its Milan Fashion Week presentation, but really big clothes, like puffer jackets the size of life rafts. You could see them, touch them, and Instagram them.
For "The Next Chapter," presented Wednesday, these same designers were back once again, albeit minus physical clothes. (And minus Piccioli, who will show in Paris next week under Valentino. He was replaced by Japanese streetwear legend Hiroshi Fujiwara.) The five films I saw were stunning, though, so much so that I didn't mind the non-traditional approach. Rocha's floral-themed collection, for example, was filmed by Tyler Mitchell, the young photographer who recently made history with his Beyoncé Vogue cover. Shot in a garden, with models wearing gloves and head-coverings, it was both romantic and haunting, like a scene from the colonies of The Handmaid's Tale. Meanwhile, Ninomiya's intricate, avant-garde pieces were rendered in 3D video, allowing you to really zoom in on all their details. Craig Green's coats were brought to life like puppets, and Hiroshi Fujiwara's work was an animated hero's journey.
"Moncler Genius is a constant stream, on and offline," wrote the brand in a release, hence the videos. The Genius project began as a savvy move to "disrupt" everything about the fashion system: the calendar, the number of designers at a brand, what clothes can be, and how they're consumed. I was a bit bummed at first not to see anything in person — I'd come all this way, after all — but that way of thinking suddenly felt dated. If most people are consuming fashion weeks through their screens anyway, why not cut to the chase? Plus, this only made me more eager to walk into a store, where the collections drop each month — and isn't that what the brand ultimately wants?
Fashion weeks, it seems, are becoming less about the clothes and more about the experience. After Moncler, I headed over to the Gucci headquarters for yet another "in lieu of … " show. This season, the brand decided to moved its runway to Paris, so they invited the Michael Clark dance company for a special performance in Milan. What Moncler lacked in human bodies, Gucci provided in spades.
Watching the dancers gyrate to David Bowie in skintight Gucci leotards (and perform naked during intermission), I appreciated the way their flesh and bones moved in the clothes, the way their ribs expanded and contracted with each breath. And I felt lucky to be seeing the Michael Clark Company in person, something most people pay good money for. But did I relate to the presentation more? Did it tell me something I didn't already know about the brand? (That Alessandro Michele, an artist, appreciates good art.) No, not really. I had a lovely night, online and off, but that was just my experience.