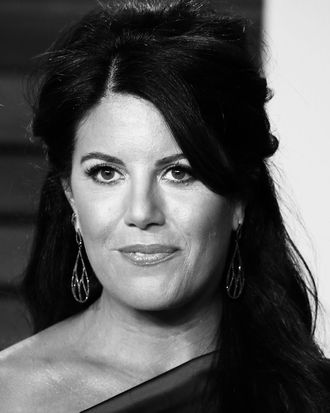 Monica Lewinsky.
Photo: Jean-Baptise Lacroix/AFP/Getty Images
During a Monday night conference in Israel, Monica Lewinsky walked offstage after being asked her a question about former President Bill Clinton — a topic that Lewinsky later said the interviewer agreed would be "off limits."
In video circulating online, Israeli TV news anchor Yonit Levi of Hadashot News asks Lewinsky — on stage, with a live audience president — whether she thought she might one day receive a personal apology from Clinton over what happened to her amid their affair. (For a recap of the scandal and the horrifying way Lewinsky was treated, I recommend listening to season two of the Slow Burn podcast). The question came shortly after Clinton admitted earlier this summer that he had never apologized directly to Lewinsky, though he had apologized through a public statement.
As seen in the video, Lewinsky then calmly and politely says, "I'm so sorry, I'm not going to be able to do this," before placing her microphone down and walking offstage. She later explained the full story behind what happened through a Twitter statement:
In her statement, Lewinsky explained that she attended the conference for the purpose of discussing the "perils and positives of the internet." After her speech, there was to be a 15-minute conversation with the interviewer about what she had just spoken about. The conversation, Lewinsky stressed, was not supposed to be a news interview.
She continues, "There were clear parameters about what we would be discussing and what we would not. In fact, the exact question the interview asked first, she had put to me when we met the day prior. I said that was off limits. When she asked me about it on stage, with blatant disregard for our agreement, it became clear to me that I had been misled." Lewinsky also wrote that it is important for women to stand up for themselves and refuse to "allow others to control their narratives."
According to CNN, Hadashot News said in a statement that it had "stood up to all of its agreements with Ms. Lewinsky and honored her requests." The statement continues: "We believe the question asked on stage was legitimate and respectful, and one that certainly does not go beyond Ms. Lewinsky's requests and does not cross the line."