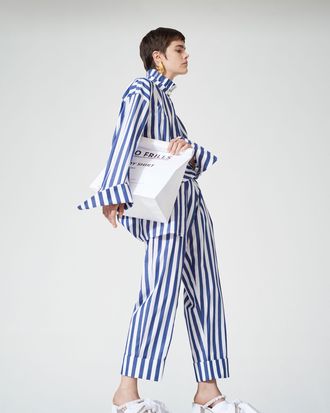 No Frills.
Photo: Courtesy of Mother of Pearl
Sustainable fashion doesn't have a reputation for being incredibly… stylish. Classic, sure. Guilt-free? most likely. But a common woe within the eco-friendly fashion community is that sometimes it can look a bit crunchy. A new collection from British brand Mother of Pearl, however, is truly fashionable. The collection, titled "No Frills," is a sub-section of Mother of Pearl that is seasonless and made within a fully-traceable product chain. The fabrics are tracked from "field to final," meaning that Creative Director Amy Powney has visited and chosen the fields the organic cotton comes from in Turkey and met the sheep farmers in Uruguay who supply her brand wool.
From its inception, Mother of Pearl has had a distinct, stylish vision. Powney co-won the British equivalent of the CFDAs in 2017. She designs the kind of clothes that women love, but once prompted a man on the street to tell Powney that her shoes were so ugly, he needed a painkiller. Think Rachel Comey or Maryam Nassir Zadeh, but British. Which is partially why it's so great to see her embrace sustainable fashion.
The brand describes No Frills as an "official introduction to a long-term mindset within the Mother of Pearl world." Which means we can expect to see more sustainable efforts from them. Among the initial offerings are tailored pants and shirts, wide-leg jeans, and voluminous silhouettes. Despite the name, there are actually quite a few frilly cuffs and necklines within the collection. But they're balanced out by the Off-White-esque sweatshirts that read "Sweatshirt. Net Wt. 408g. No Frills." The accessories pictured (aren't the bow shoes to die for?) are not sustainable, but a rep for the brand told the Cut that they hope one day they'll get there. They'll be available the first week of September, and retail between $145 and $765. See more of the collection below.