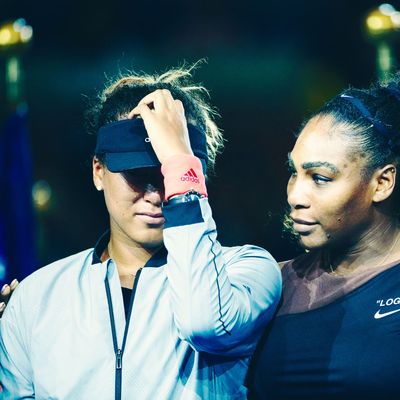 Naomi Osaka and Serena Williams at the U.S. Open.
Photo: Tim Clayton - Corbis/Getty Images
On Saturday night, 20-year-old Naomi Osaka of Japan defeated Serena Williams during a controversial U.S. Open women's final. But rather than celebrate her first Grand Slam win, Osaka cried and apologized to the crowd immediately after the match. Speaking with the Today show on Monday morning, the young tennis star opened up about the ordeal.
During the U.S. Open final, Williams was hit with three code violations by the match's chair umpire, Carlos Ramos, which were immediately decried as sexist and unfair. At the end of the final, the crowd booed as Osaka stood on stage to accept her trophy, prompting the young player to bow her head in tears. Williams put her arm around Osaka, asked the crowd to quiet down, and congratulated her.
Osaka told the Today show that the experience has been "surreal." Williams, she explained, has been her idol since she was a kid; Osaka had been "really nervous" to play against her in the Grand Slam match. But when Ramos's controversial calls started, Osaka didn't realize what was happening, since she had her back turned at the time.
The U.S. Open champion went on to say that she felt "sad" when the crowd started booing — "I wasn't really sure if they were booing at me" — but that she understood how they felt. "I also could sympathize because I've been a fan of Serena my whole life and I knew how badly the crowd wanted her to win," Osaka told Today. "I was just emotional."
Osaka went on to say that she felt "really happy" when Williams publicly stood up for her. The athlete also said that she felt as though she needed to apologize to the crowd when accepting her trophy. "I just felt like everyone was sort of unhappy up there. I know that the ending wasn't how people wanted it to be," she said. "I know that in my dreams I won a very tough, competitive match, and I just felt really emotional."