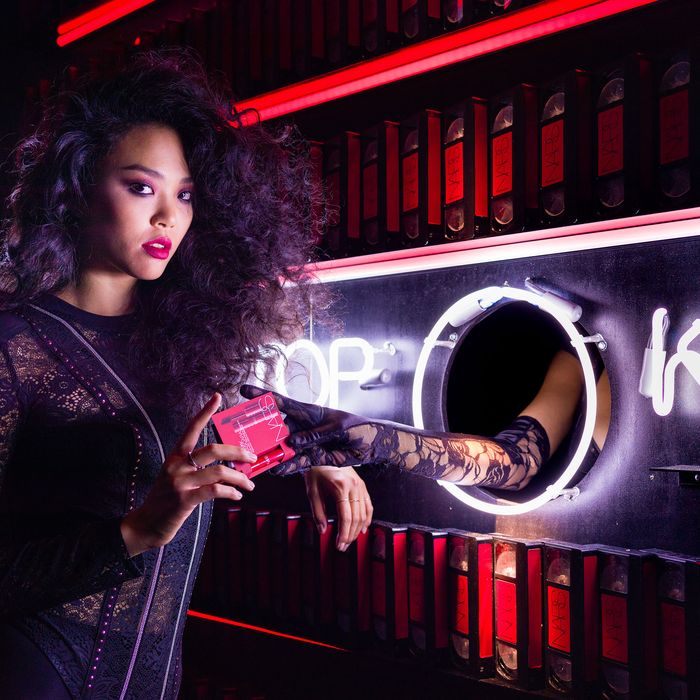 What turns you on? Is it a steady supply of Instagram likes? Science shows that seeing a stream of notifications on the app, much like sex, releases a flood of dopamine (the brain's "pleasure chemical.") Enter House of Climax, a sexy Instagram wonderland pop-up from NARS Cosmetics that's designed to win hearts — both digital and analog.
House of Climax is an Experience, similar to other capital-E Experiences like Sleep No More and the Museum of Ice Cream. It consists of a series of dark rooms and spaces with suggestive exhibits, adult-store red lighting, two-way mirrors, and lots of flash. House of Climax guides (attractive, lace-clad men and women wearing artfully smudged eyeliner) prowl the area, slinking down walls, beckoning visitors with curled fingers, and whispering, "Are you ready for what's next?"
What's next is always audacious. A guide in character might make a pun about going "deeper" that will make you both giggle and blush. If you're there at the right time, you might even catch a throaty cabaret performance that will make you immediately hit the Instagram Stories button. There's more, but I won't give away all the secrets — just know you're in a safe space.
Advance tickets of House of Climax have sold out, but the brand wants you to come anyway. Everyone is still welcome on a first-come-first-serve basis for walk-ins. It's free (and you'll receive a sample of the brand's new mascara.) Hours run from 7 p.m. to 12 a.m. from September 20 to 22. You can find all of the details on this website.