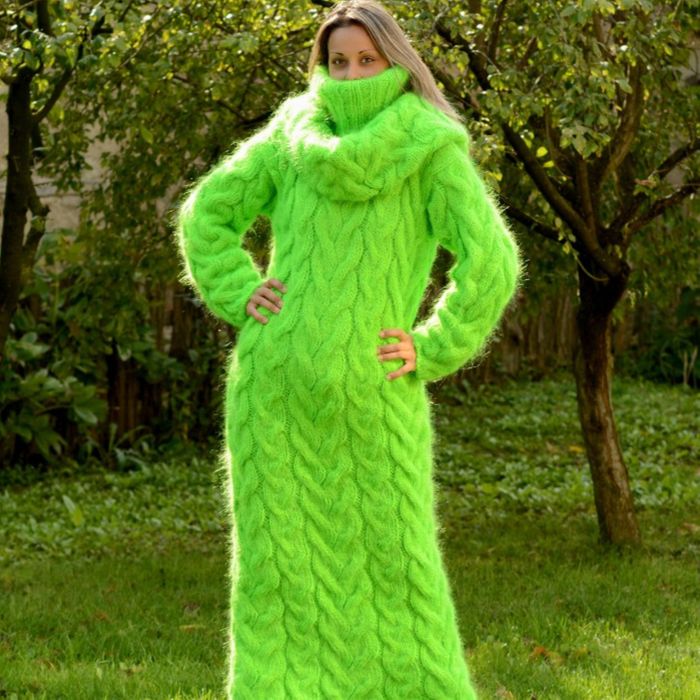 Photo: Courtesy of the Retailer
As cold weather looms on the East Coast horizon — God, it cannot come soon enough — my animal instinct tells me to start collecting fleece sweaters, blazers, and Uniqlo Heattech like a squirrel would acorns. I have a long list of online shopping bookmarks that I believe will set me up to thrive this fall, and a bright green neon turtleneck is at the top. (Even higher than a bolo tie.) In fact, it may be the only thing I really need.
Looking back, I suspect my neon inception occurred last season, after the fall 2018 Prada show during Milan Fashion Week. It took place at night inside the brand's Fondazione building, which has floor-to-ceiling windows that look out onto the city skyline. The collection's theme was something like Italian Blade Runner, with neon rain boots and nylon bucket hats. Neon signs bearing Miuccia Prada's favorite motifs (like bananas) were also suspended by cranes outside, creating reflections on the shiny black runway.
After the show was over and I was spit back out into the night, I felt like a light had been turned off. I wanted my wardrobe to glo! Instead, I faded into the shadows. The Prada woman I'd just witnessed was empowered to be out and about at night, and from that moment on, I wanted to be her.
Other designers besides Miuccia Prada showed neon for fall, from Marc Jacobs to Maryam Nassir Zadeh. The Kardashians made the trend their own, and Kanye West's latest batch of Wyoming merch came in various shades of bright green and orange. It wasn't until I spoke to stylist Karla Welch about neon this summer, though, that I became convinced of its transformation powers.
Welch recently put her client, Sarah Paulson, in a slime-green neon dress from the Prada collection, and she could not stop gushing about it. She said it was maybe one of the best dresses that she had ever placed, and the reactions it received made it worth every single one of the pleading emails she sent to get it. When Paulson wore it to the Ocean's 8 premiere, she quite literally radiated on the red carpet, blowing out her seven other co-stars, including Rihanna (!) standing next to her.
Neon is in-your-face and maybe even a bit annoying to behold, but that's why it's awesome. It refuses to blend into a crowd or "tone it down," especially in the form of a turtleneck. I truly cannot wait to wear one on a first date this fall. I think it will bring out my eyes.
Shop Neon Clothes and Accessories
Available in sizes XS–XL.
Available in sizes 14–24.
Photo: Courtesy of the Retailer
Photo: 18-07-30 Accessories AM1 B1 andrewyonda W
Photo: 18-01-26 zoranakuzmanovic AM3 B3 sharonvanorny W
Photo: 18-06-14 Accessories PM2 B1 raypfeiffer W
Available in sizes 14–24.
Available in sizes 14–28.
And if you really want to embrace the trend…
Photo: Courtesy of the Retailer
If you buy something through our links, New York may earn an affiliate commission.