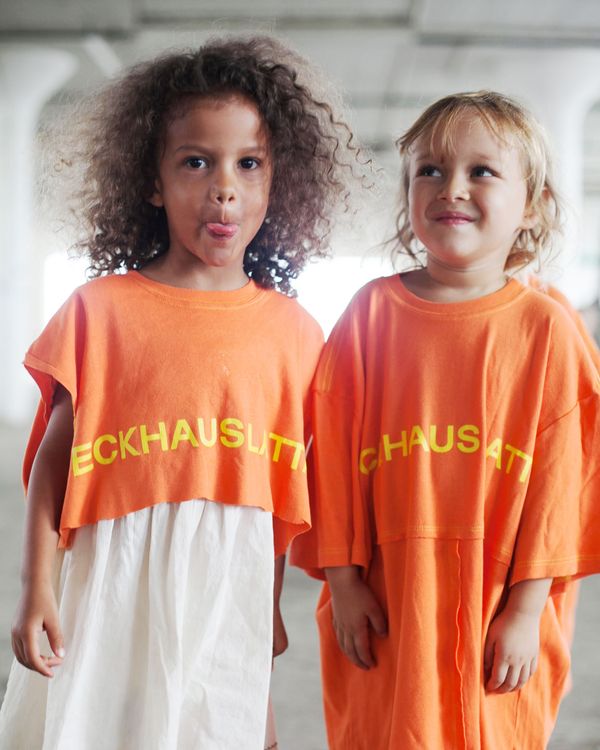 Two members of the "youth orchestra" at Eckhaus Latta spring 2019.
Photo: Nick Delieto
One piece of fashion advice that I think about a lot is something designer Norma Kamali told me when I turned 25. She said in order to really define my style — something I desperately needed at the time — all I had to do was remember the way I dressed when I was a kid, before I cared about what people thought of me or had developed an external idea of myself.
The best designers at New York Fashion Week this season seem to have heeded this advice as well. On Saturday, both Eckhaus Latta and Pyer Moss showed different versions of the uninhibited energy that comes with being young and striving. But they also showed that age does not necessarily correlate to a youthful spirit; anyone can have it. Even Ralph Lauren, who is 78 years old and celebrated his brand's 50th anniversary on Friday, proved the rule: Be true to what you've always known. And keep going.
Eckhaus Latta's show, which took place across the street from a recycling facility in an industrial building, had a "youth orchestra" provide the runway soundtrack this season. Kids of all ages banged xylophones, bells, and buckets in a way that I think a lot of us did when we were their age, but stopped when our parents' ears started bleeding, or we learned that playing actual notes is what you're "supposed" to do. I saw one girl chant la la la over and over again as she jumped up and down, filled with glee. Others let out loud primal screams that echoed throughout the space.
The youth orchestra was so boisterous, it was hard to focus on the clothes, which exhibited youthful motifs like tie-dye, crafty embellishments, and a sense of comfort. Models looked like they'd taken scissors to their hair, and one even had a broken arm. But this competing energy seemed to be Mike Eckhaus and Zoe Latta's point: We cannot ignore the kids. Not now, when they are being separated from their parents and held in detention centers at the border. When they feel scared to go to school with their clear backpacks on, or run around their own neighborhoods with the fear of being shot. America's adults have failed us; listen to the kids.
On my way to the Eckhaus show, I read T magazine's latest issue, which was inspired by S. E. Hinton's The Outsiders and attempts to capture what it looks like to be young, beautiful, and male in 2018. For me, the story drove home the fact that fashion is in the business of selling youth — and that we haven't always done so in ways that are constructive or safe. Eckhaus and Latta, who are both entering their 30s now, have made a name for themselves as New York fashion's "cool young things," but their success stems from a more mature perspective — one where youth is not a singular concept to be put in "quotes," but a living, breathing spirit that should be protected, nurtured, and celebrated.
Designer Kerby Jean-Raymond of Pyer Moss has also cultivated a strong sense of community since founding his label five years ago, although he still feels he has to fight for the kind of insider recognition that Eckhaus Latta has. His spring 2019 show took place on Saturday at the Weeksville Community Center in Crown Heights, Brooklyn — a historic neighborhood and one of America's first free black communities. Model Ebonee Davis opened the show wearing a collared white gown inspired by church robes. Holding her hand was a child wearing Pyer Moss x FUBU, which stands for "for us by us." As they walked, a 40-person gospel choir sang songs like "Be Real Black for Me" and "Ain't No Way" by Aretha Franklin.
For Jean-Raymond, being a young brand has meant not being recognized or taken seriously by the industry family — the same thing he thinks happened to well-established brands like FUBU and Cross Colours, which he collaborated with last season, for promoting black culture. Every season, he makes it clear that not all dreamers are allowed to strive in America — no matter how loudly they chant — and that his brand is working to change the status quo for the next generation. Pyer Moss is up for a CFDA award this year, and during a recent presentation with Vogue editor-in-chief, Anna Wintour, Jean-Raymond wore a shirt that read: "If you are just learning about Pyer Moss we forgive you." The phrase "See us now?" was also printed on a few of his spring 2019 pieces, including a FUBU vest.
After the show, Jean-Raymond took a bow wearing a hoodie that said "Family." It was a specific reference to ten paintings of quotidian black life that he commissioned by artist Derrick Adams this season, which were printed onto clothes. Jean-Raymond wanted to offer a picture of what the African-American experience would look like "without the constant threat of racism," as he said backstage. In a time when black communities have the cops called on them simply for trying to barbecue, that one simple word — "family" — was a humanizing message, and neatly summed up the complicated emotions presented that day. Family is a refuge but also what empowers us to be the best, most authentic, free versions of ourselves. You can't have style without it.
I don't normally get sentimental text messages from my mother, but all the news this week — Trump being Trump, the Kavanaugh hearings, and Mac Miller dying at 26 — seems to have gotten to her. "Please take good care of yourselves," she texted my brother and me one night. "The world feels very unfriendly right now." It made me stop what I was doing and look around. Fashion can be an unfriendly, unjust place, especially for those who are young and new. But in that moment I felt grateful to be taken care of. On Saturday, rain fell in Weeksville, but the crowd covered one another with umbrellas, nodding along on as the gospel choir sang into the night.