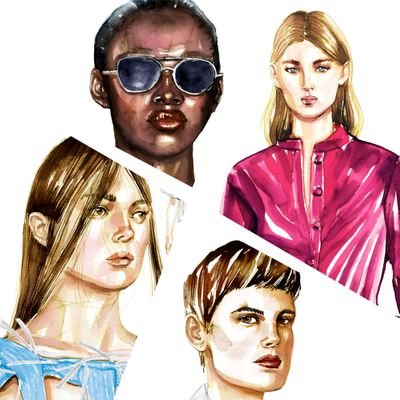 Illustration: Samantha Hahn
The simple presence of an illustration is a much-needed reminder to pause, look, think, and look again. I've done illustrative coverage of New York Fashion Week since 2012. In that time, I've watched technology transform the industry and its media coverage. Designers livestream their shows. Fashion editors post to Instagram directly from their seats. Fashion has accelerated. That said, fashion is an art form. Art deserves time, space, and context to be fully appreciated.
To me, an illustration reveals the essential, the emotional and aesthetic core, and subtracts the extraneous. It captures the mood and highlights the easily overlooked details of color, texture, and silhouette that elevate a truly remarkable piece of clothing. In a sea of runway images and publicity photographs, I think of an illustration as a love letter, an homage, a celebration of a design that goes far beyond "documenting" a look.
Every day of New York Fashion Week, artist Samantha Hahn painted a beautiful moment from the runways. Scroll to see all of her illustrations from the week.