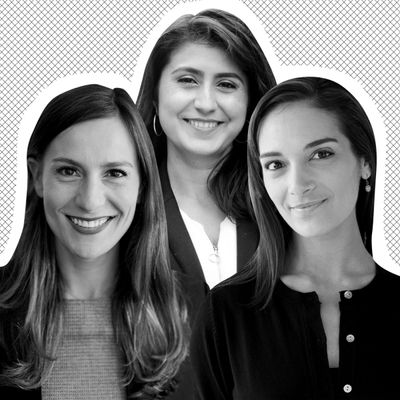 Alessandra Biaggi, Jessica Ramos, and Julia Salazar.
Photo-Illustration: The Committee To Elect Alessandra Biaggi, Jessica Ramos for State Senate, Salazar for State Senate
New York's primaries yielded mixed results for the progressive women running for office — although Cynthia Nixon suffered a big loss to Andrew Cuomo in the governor's race, other candidates who shared her message saw historic and heartening successes on the state senate level. Notably, their wins dealt a crushing blow to the Independent Democratic Conference, a now-disbanded group of Democratic state senators who split from their colleagues and aligned themselves with Republicans.
This will pave the way for progressive lawmaking and policy changes in New York, and it sends a message to Albany that voters are fed up with the status quo. As Nixon put it in her surprisingly hopeful concession speech: "The blue wave is real, and it's not only coming for Republicans — it's coming for Democrats who act like them."
Here is a roundup of the most exciting results from last night.
Julia Salazar, State Senate District 18
Julia Salazar, a 27-year-old Democratic Socialist, defeated 16-year incumbent Martin Dilan, who has been heavily criticized for his closeness with real-estate developers and landlords' associations. The controversy surrounding her campaign in the wake of national media attention was not enough to take away from a hard-left platform that included tenants' rights, abolishing ICE, Medicare for All, and and repairing and improving public transit.
"This victory belongs to all of you," Salazar said in her victory speech. "It belongs to tenants, to everybody who has fought for years, to make housing rights the center of this campaign. To everyone who has been fighting for our rights for decades."
Jessica Ramos, State Senate District 13
Jessica Ramos beat 10-year incumbent Jose Peralta, an IDC member, by a ten-point margin. She is a first-generation community organizer who positioned herself as a "Real Democrat," in opposition to Peralta; notably, she received one of Mayor Bill de Blasio's few endorsements. Her campaign focused on Peralta's dismal history with the district, and her platform included fixing the MTA, reforming rent laws, and protecting the rights of women and immigrants.
"The IDC better be dead," Ramos told reporters at her victory party in Jackson Heights. "New Yorkers are pissed. They're tired of being lied to. They're tired of government not working for them. They're sick of it."
Alessandra Biaggi, State Senate District 34
Alessandra Biaggi, an attorney, ran against IDC leader, Jeffrey Klein, who was accused of sexual misconduct earlier this year. Endorsed by the New York Times and campaigning on a platform that includes decriminalizing sex work, ending cash bail, and single-payer health care, Biaggi's win could mean big changes for her district.
During the course of this race, Klein spent a staggering $2 million trying to fend off Biaggi — more than Nixon spent in her gubernatorial race. "If this doesn't prove that political currency is people over money, I do not know what does," Biaggi said at her victory party. "We have now cut the head of the IDC snake."
She also noted that voters in her district "have woken up." "We sent a message that we will not tolerate these little fiefdoms," she continued. "The government is for the people. And when you are elected, you are supposed to be serving the people. Nobody is beholden to you. You are there to serve the people."