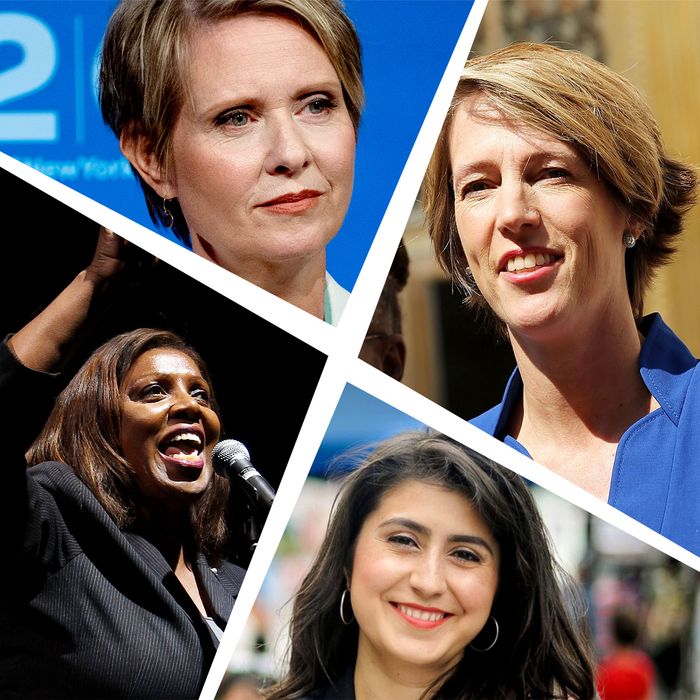 Clockwise from top: Cynthia Nixon, Zephyr Teachout, Jessica Ramos, Letitia James.
Photo: Getty Images, Jessica Ramos for State Senate
On September 13, New Yorkers will head to the polls for their state primaries. The 2018 Midterms are of crucial interest nationwide, from the upstart Democrats running to oust Republicans to the progressives seeking to replace long-term Democrats and push their party further to the left. In New York, a state that's both widely blue and also widely rife with corruption, we're seeing a flood of the latter. It's yet to be seen if this tactic will be successful, but the federal primaries back in late June — in which 28-year-old Democratic Socialist Alexandria Ocasio-Cortez famously beat a ten-term incumbent — certainly has people hopeful.
Ahead of voting day, here are the most exciting races and women — many of whom have cross-endorsed and supported each other — to watch in the New York Democratic primaries.
The Governor's Race
Since March, Andrew Cuomo has found himself facing what's proven to be a formidable primary challenge. Actress and activist Cynthia Nixon, though a political newcomer, has capitalized on mounting frustration with the subway and general discontent with the establishment to run a campaign that's undoubtedly needled her opponent. Her platform includes single-payer health care, marijuana legalization, and abolishing ICE — and she's already pushed Cuomo to the left on a number of issues. Can Nixon actually beat a two-term governor who has over $30 million in his war chest and the widespread support of his party? It'll be tough (the latest poll puts Cuomo at 63 percent to Nixon's 22 percent), but his 2014 opponent, Zephyr Teachout, still raked in 34 percent with far less cash and name recognition — and the political winds have changed significantly since.
The Attorney General's Race
In one of the biggest shocks of the primary season, the New York Attorney General's seat is up for grabs after shoe-in Eric Schneiderman resigned amid abuse allegations back in May. Four candidates have stepped up, three of whom are women, two of whom are neck and neck. (Congressman Sean Patrick Maloney also stands a viable chance of winning.) Letitia James, New York City Public Advocate, began in the lead and would seemingly be the obvious choice — but her experience and endorsement from Governor Cuomo has proven to be a liability in a year when voters are drawn to outsiders. Progressive favorite Zephyr Teachout — the Fordham Law professor who challenged Cuomo in 2014 and ran for Congress in 2016 — has generated the most buzz this time around, with her corruption expertise garnering her coveted endorsements from the New York Times, the New York Daily News, and even First Lady of New York City Chirlane McCray.
State Senate District 18
After Ocasio-Cortez swept her Congressional district, Julia Salazar, who's also a young Latina Democratic Socialist in her twenties, attracted similar attention. Salazar, running in North Brooklyn, is focusing primarily on issues like tenant's rights; she's seeking to unseat Martin Dilan, who's represented the district for 16 years. Her campaign has been famously riddled with controversy: news emerged that she was the leader of a pro-life organization in college (she's now firmly for abortion rights) and she's been accused of misrepresenting her religion, immigration history, and class identity. (There's also a wild twist involving former Mets player Keith Hernandez.) While her volunteers have been tireless about getting the word out and she has several prominent endorsements — including from Ocasio-Cortez — it's yet to be seen how those other issues will impact her in the voting booth.
State Senate District 13
Jessica Ramos was born and raised in District 13, which comprises a large swath of Queens. The first-generation Latina community organizer and activist wants to replace Jose Peralta, who's held the seat for ten years. She's focusing on the day-to-day issues that directly impact the lives of her constituents, from fixing the crumbling subway infrastructure to reforming rent laws. Ramos is positioning herself as a "Real Democrat" — especially potent as Peralta was part of the Independent Democratic Conference, a now-dismantled group of breakaway Democratic State Senators who often caucused and voted with Republicans. New York City Mayor Bill de Blasio, her former boss, also offered up a rare endorsement.
State Senate District 34
Jeffrey Klein has represented District 34, or parts of the Bronx and Westchester county, since 2005. He also has the distinct honor of leading the IDC and being accused of sexual misconduct earlier this year. Alessandra Biaggi admittedly comes from a more traditional wing of the Democratic party than most of the other women on this list — previous gigs include working as a counsel to Cuomo and as Deputy National Operations Director for Hillary Clinton's 2016 presidential bid. But she's campaigning in support of more left-wing issues, like single-payer health care and decriminalization of sex work. And she snagged a New York Times endorsement.