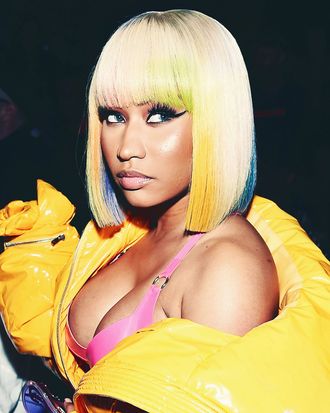 Nicki Minaj.
Photo: Theo Wargo/Getty Images
Nicki Minaj may not have made a comment to the public since nearly getting into a full-on fight with Cardi B at a New York Fashion Week party, but she has liked a few interesting tweets that may reveal her thoughts on the altercation.
While the two women rappers have been low-key fighting since March 2017, the feud escalated at the Harper's Bazaar ICONS party this past Friday, when Cardi reportedly lunged at Minaj and threw a shoe at her. After Cardi was escorted out of the party, she Instagrammed a lengthy Notes app statement, claiming that she was upset with Minaj for making offensive statements about her mothering, as well as speaking ill of her daughter, Kulture.
Three days later, Minaj still hasn't publicly commented on the NYFW fight, but she has started liking tweets about it. While the majority of the tweets that she has liked are from fans who are defending her without explicitly condemning Cardi, a few have been related to the "Bodak Yellow" rapper's allegations that Minaj made rude comments about Kulture.
"Nicki has NEVER mentioned Cardi's baby," reads one tweet, which was quote-tweeted with, "Ever! She's also never discussed her parenting skills. Please stop believing the lies. #FakeNews."
Minaj also liked a tweet criticizing the public's characterization of her as the "bad guy," which read, "Nicki would never talk about a innocent child."
Today's episode of Queen Radio is sure to be quite interesting!