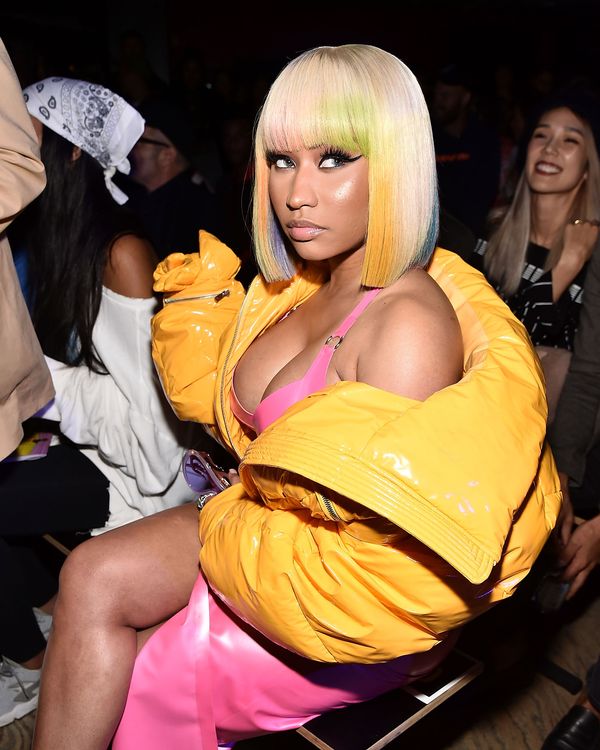 Nicki Minaj at Opening Ceremony.
Photo: Theo Wargo/Getty Images
In lieu of a traditional runway show, Opening Ceremony invited RuPaul's Drag Race winner Sasha Velour to host "The Gift of Showz," or a drag extravaganza at Le Poisson Rouge. The event lasted two hours, concluding with a surprise performance from Christina Aguilera. Sitting front row the entire time were musical artists Troye Sivan and Nicki Minaj, who was eventually joined by the young rapper Tekashi 6ix9ine.
In addition to presenting the spring 2019 collection, Opening Ceremony designers Carol Lim and Humberto Leon gave performers Miss Fame, Jiggly Caliente, Shea Couleé, Farrah Moan, and Hungry (who is also Björk's makeup artist) fabric to make the custom looks of their dreams. West Dakota, a young performer and reigning Mr(s). Brooklyn, even sewed her two-piece look by hand. The results were far more imaginative and theatrical than the rest of the spring clothes, but Lim and Leon seemed happy to hand over the spotlight. This is not the first time they've put on a show; last season, they went to Disneyland.
For someone like Sasha Velour, who performed a song by Aguilera on Sunday night, sharing a stage with the musical artist was what you might call a "major moment." Another performer, Farrah Moan also prides herself on being a dead-ringer for the singer. But Minaj's presence was also notable that night. This was just days after she an Cardi B had an altercation at the Harper's Bazaar Icons party, leaving Cardi with a lump on her head and one less shoe, which was thrown in Minaj's direction. Cardi did not attend designer Christian Siriano's show yesterday, which she has done in the past.
Minaj kept a low profile on Sunday night, though. Much to everyone's enjoyment, it was the drag performers who had all the drama.