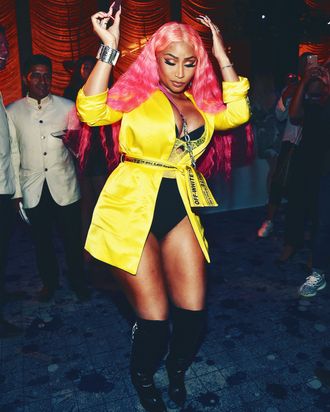 Nicki Minaj dancing.
Photo: Bryan Bedder/Getty Images for IMG
Yesterday was National Cheese Pizza Day. It was also the official beginning of New York Fashion Week, and few people were as pumped to get spring 2019 started than Nicki Minaj. Fresh off a feud or three or five, the rapper attended E! Entertainment/Elle Magazine/IMG Model's NYFW kick-off party celebrating "Super Models and Super Trends." Upon arrival, she proceeded to prove to Kylie Jenner, Travis Scott, Cardi B, and probably Remy Ma for good measure that she's doing just fine. She did this in the same exact way I like to stick it to the haters: By breaking it down to "Chun-Li" by Nicki Minaj.
This amazing act of self-love was enough to crown Nicki the winner of Day 1 of New York Fashion Week. But what made it a true sight to behold was her new hair. The extremely long, extremely bright pink hair Minaj wore even managed to outshine her yellow Off-White blazer. It was the perfect plus-one for the night, nonchalantly swaying to the beat and rubbing elbows with Nina Garcia and Stephan Gan.
Better yet, it was completely on-theme for the party at hand: Hot-pink hair is a "Super Trend" in the making if I've ever seen one. What shall we call it? Flamingo Hair? Victoria's Secret Push-Up Bra Hair? Motorola RAZR Hair? Simply text the first initial of the contestant you would like to vote for to "21523."