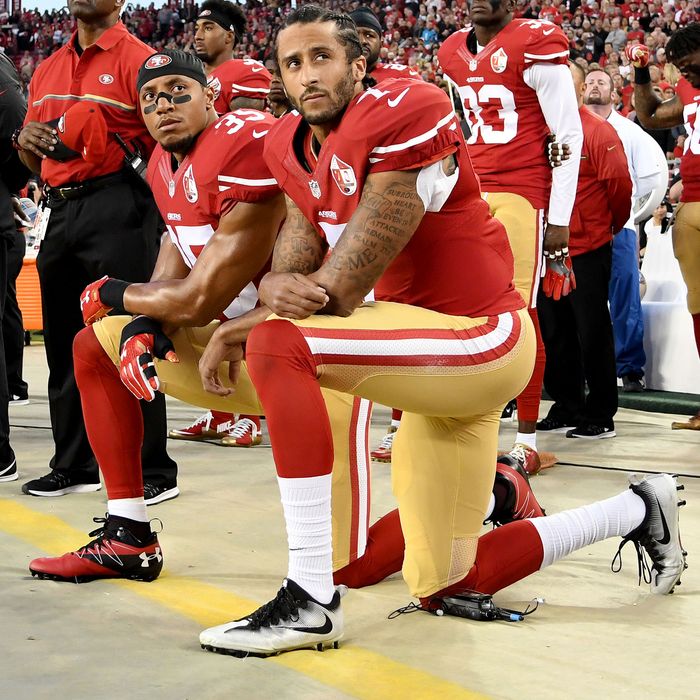 Photo: Thearon W. Henderson/Getty Images
Since it was coined in 1988, Nike's "Just Do It" slogan has become one of the most successful ad campaigns in history for its simplicity and wide range of meaning. It resonates with everyone, from the person who's never gone on a jog before to an Olympic sprinter on the final leg of a race. For Americans, it's synonymous with the action of pulling yourself up by the bootstraps; you just have to keep moving.
Now, "Just Do It" has political resonance in America. On Monday, Nike revealed its 30th anniversary "Just Do It" campaign featuring former NFL quarterback Colin Kaepernick, who made headlines when he sat down during "The Star-Spangled Banner" in 2016 to protest American racism and police brutality.
"I am not going to stand up to show pride in a flag for a country that oppresses black people and people of color," said Kaepernick at the time. "To me, this is bigger than football and it would be selfish on my part to look the other way. There are bodies in the street and people getting paid leave and getting away with murder."
By making Kaepernick — who no longer has a contract with the NFL — the face of Nike, the brand has simultaneously expanded the reach of "Just Do It" beyond sports and attached "It" to a singular cause, specifically Black Lives Matter and Kaepernick's own "Know Your Rights" campaign. Given the slogan's ubiquity in popular culture, this is a big deal.
"Believe in something," reads the ad. "Even if it means sacrificing everything."
As Rembert Browne wrote for New York in September 2016, when Kaepernick took a knee, he also took a leap. "This is about risk," Browne explained. "That first bold statement, that first leap of faith into the intimidating world of dissent." One of many dissenting opinions thrown Kaepernick's way came from President Donald Trump himself, who tweeted that NFL players should be either fired or suspended for protesting during the national anthem.
Nike isn't just providing Kaepernick's cause with publicity, but also actual dollars. The brand will produce new Kaepernick apparel and donate money to "Know Your Rights." But was Nike's endorsement of Kaepernick a risk? Of course, the personal risks Kaepernick took and the corporate long game Nike is playing have entirely different stakes, but choosing to be on one side of history never comes without pushback.
As the Times reported, Nike's stock price fell more than 2 percent Tuesday morning, but this could have been the result of a larger market downturn. Meanwhile, the hashtag #NikeBoycott became one of the most used on Twitter. Dissenters posted videos of themselves burning their Nike sneakers and cutting logos out of their shorts and socks. "Get ready," threatened John Rich, the owner of a lifestyle brand called Redneck Riviera, on Twitter. "Multiply that by the millions."
Are we actually going to see millions of Americans walking around with cut-up socks, though? No, of course not. This is just another example of Americans confusing political action with capitalist self-owns, as negative press can actually have positive effects for a brand. When Kanye West implied that "slavery was a choice," for example, search traffic for Yeezy reportedly increased "dramatically" as videos of his sneakers being thrown in the garbage circulated online. On the flip side, Patagonia's stance against Trump last year proved to be "massively good for business" as well.
In America, taking any stand is good for business; this much is clear. Kaepernick's jersey was a top seller for the N.F.L after he took a knee, and Nike knew this. (They will also continue to produce uniforms for the NFL under a long-term contract.) But even if the Nike's endorsement of him proves to be lucrative and a good PR move — and even if Nike has plenty of other internal issues it still needs to tackle, like gender and pay equity — the "Just Do It" campaign can still have real value beyond dollars.
In the past, "Just Do It" campaigns have stood for generally progressive causes (like promoting female athletes); now the slogan champions actions that are specific and urgent. In supporting Kaepernick, Nike has made a statement that its competitors, notably Adidas, have not yet dared to: Instead of just doing something, they're doing the right thing.