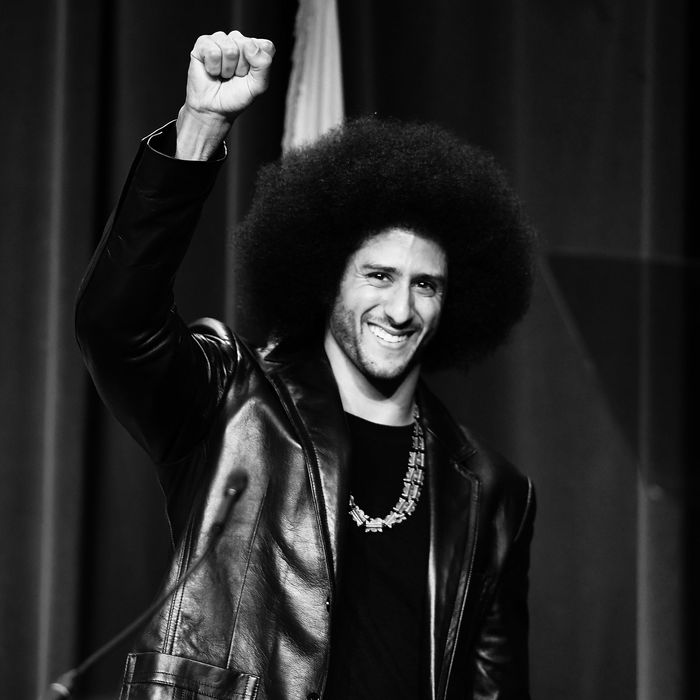 Wrong way to protest: taking a knee. Right way to protest: setting fire to your stuff.
Photo: Matt Winkelmeyer/Getty Images
Nike has thrown itself into the controversy over NFL players protesting during the national anthem, unveiling a new ad on Monday featuring Colin Kaepernick, the former San Francisco 49ers quarterback who started kneeling during the anthem to protest racial injustice and police brutality.
Kaepernick revealed on social media that he is one of the faces of Nike's 30th-anniversary "Just Do It" campaign, along with Serena Williams, LeBron James, Odell Beckham Jr., Shaquem Griffin, and Lacey Baker.
Kaepernick signed an endorsement deal with Nike in 2011, but he had not appeared in any ads in recent years, as his protest movement spread through the NFL, and became one of President Trump's favorite targets. In 2017, Kaepernick became a free agent before the 49ers could cut him, but then he was repeatedly passed over while players considered less talented found work. Kaepernick has accused NFL teams of conspiring to keep him out of the league, and last month an arbitrator ruled that there's enough evidence for his case to get a full, trial-like hearing.
From one perspective, Nike putting Kaepernick in its latest campaign – and reportedly signing him to a new multi-year deal and making plans to produce a shoe and Kaepernick T-shirt — is a risky move. (The New York Times reports Nike will also donate money to Kaepernick's "Know Your Rights" campaign.) NFL owners are already on-edge with the arbitration hearing expected to happen during the coming season, and Trump promising that he won't let up on his attacks. Nike became the NFL's official apparel provider in 2012, supplying uniforms and sideline apparel for all 32 teams, and that deal was extended to 2028 last spring.
A person familiar with the negotiations told the Wall Street Journal that Nike simply felt Kaepernick embodied its slogan.
But a Nike spokeswoman said that's "not accurate" and that "Nike has a long-standing relationship with the NFL and works extensively with the league on all campaigns that use current players. Colin isn't currently employed by an NFL team and has no contractual obligation to the NFL."
When Trump started attacking the league last season, Nike said in a statement that it "supports athletes and their right to freedom of expression on issues that are of great importance to our society."
Whatever Nike's moral motivations, the company's move appears less financially daring when you look at polling on the response to the controversy over protests during the anthem. A CNN poll conducted a year ago found that a majority of black people, Democrats, and younger Americans support the players' protests, while whites, Republicans, and older people tend to be opposed:
Among whites, 59% say the players are doing the wrong thing while 82% of blacks say it's the right thing to do. Almost 9 in 10 Republicans say it's the wrong thing (87%) while just about three-quarters of Democrats say the opposite (72%). And most younger Americans call it the right thing (56% among those under age 45) while a majority of older Americans say it's wrong (59% among those age 45 or older).
Without looking at Nike's sales figures, it's probably safe to assume the brand is more popular with the type of American who backs the protests, and less popular with the sort of NFL fan who was moved by Vice President Mike Pence staging an expensive walkout over the demonstrations last season (for what it's worth, Pence was wearing a suit during the stunt, and Second Lady Karen Pence was wearing a jersey made by Reebok).
ESPN journalist Jemele Hill pointed out that the move fits with the history of Nike's brand.
But of course, the Kaepernick ad ignited controversy online, in some cases literally. Country musician John Rich posted a photo showing that his soundman had cut the swoosh off his socks in protest, and others tried to teach Nike a lesson by burning shoes they had already paid for.
Multiple Nike-related hashtags were trending in the U.S. overnight on Monday, with many people praising Nike, and making a show of not burning their belongings.
And in a development that Breitbart and Ted Cruz used to attack liberals, and everyone else just found funny, even woke Ahmadinejad declared that #HesWithKap.