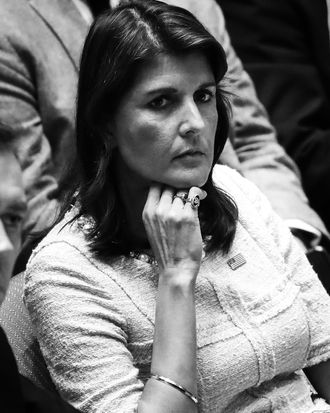 Nikki Haley.
Photo: Drew Angerer/Getty Images
Scott "Money Money Money" Pruitt left the Environmental Protection Agency back in July, leaving in his wake a $43,000 soundproof phone booth, $1,500 worth of fountain pens, and countless empty bottles of Ritz-Hotel moisturizer. But that doesn't mean there is no more lavish government spending to be had. According to a new report from the New York Times, from March to August of last year — while former Secretary of State Rex Tillerson had frozen hiring and was pushing to cut the State Department's budget by 31 percent — the department spent $52,701 installing mechanized curtains for the picture windows in U.N. Ambassador Nikki Haley's New York City apartment.
The curtains themselves cost $29,900, and the mechanics to automatically close them cost $22,801. The cool thing about this story, though, is that it's one designed to make absolutely everyone angry. That's because, while the expensive curtains were installed during the Trump administration, they were approved and ordered under the Obama administration back in 2016.
Patrick Kennedy, the senior management official at the State Department during the Obama administration, justified the decision to the Times by saying that the curtains would be used for years, and that they are an important security measure.
"All she's got is a part-time maid, and the ability to open and close the curtains quickly is important," he said.
No word yet on whether Haley has taken any expensive decorating tips from Ben Carson.