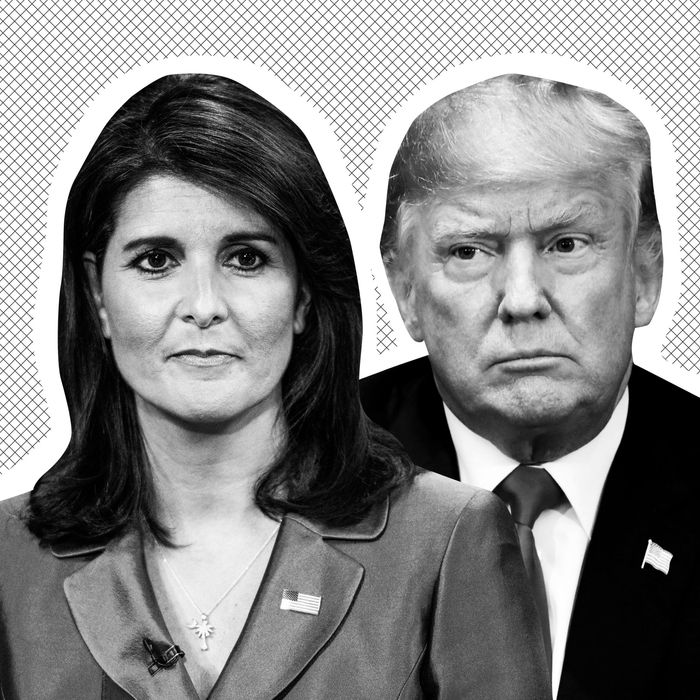 Nikki Haley, Donald Trump.
Photo: Getty Images
Yesterday, Donald Trump addressed the United Nations General Assembly and told them that his administration "has accomplished more than almost any administration in the history of our country." And the audience … laughed right in his face. A lot.
Let's revisit it:
But it's all good, according to U.N. ambassador and curtain enthusiast Nikki Haley. Because the delegation of various world leaders and foreign dignitaries weren't laughing at Trump — they were laughing with him.
Haley offered up this take — which was so beautifully mind-bending it involved subjecting logic to a Cirque du Soleil training camp — during a Fox appearance this morning. "When he said that, they loved how honest he is," she said. "And it's not diplomatic, and they find it funny. And when he goes, and he is very truthful, they kind of are taken aback by it."
"All day yesterday, they were falling over themselves to get a picture with him, to talk about how great his speech was," Haley went on. "Whether he said good things about them or not, they love that he's honest with them and they've never seen anything like it, so there's respect there."
Anyway, it's like I always say: keep your friends close, and your enablers closer.