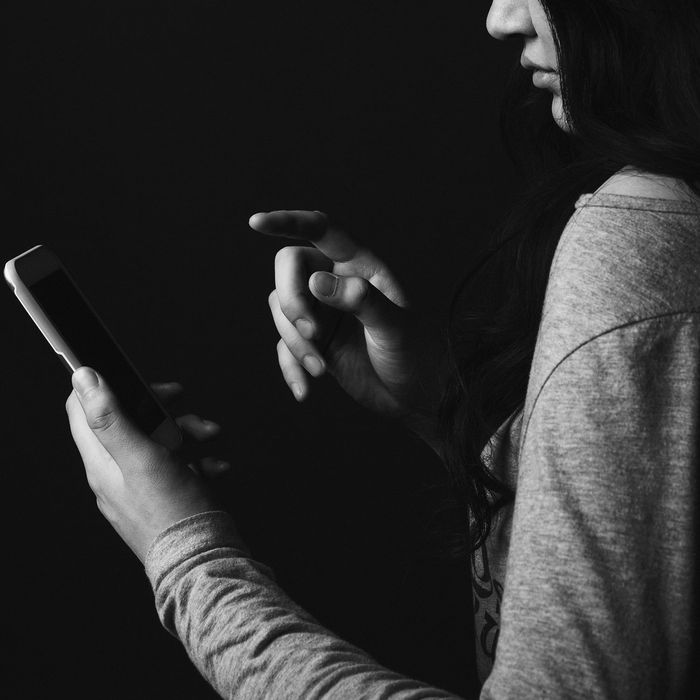 Photo: Hero Images Inc./Getty Images/Hero Images
A Las Vegas man is facing child pornography and stalking charges for allegedly using Facebook to force a teenage girl into sending him sexually explicit images of herself, which he then sent to others, BuzzFeed News reports. According to a federal investigation, the alleged perpetrator may have victimized up to 500 others.
On August 2, a federal grand jury in Wisconsin charged 25-year-old David Ohmar Harris with two counts of producing child pornography, extortion, and stalking. Per an indictment, Harris had allegedly targeted a teenage girl who came forward to law enforcement, claiming that Harris had harassed her for "quite some time," including by forcing her to "engage in sexually explicit conduct." Prosecutors claim that from December 2016 to June 2018, Harris forced the teenager to send him, via Facebook, "visual depictions" of her masturbating and threatened her if she didn't comply.
The aforementioned minor may not be the only minor Harris targeted. According to an investigation conducted by the Wisconsin Department of Justice Division of Criminal Investigation and the U.S. Department of Homeland Security, Harris may have extorted up to 500 teenage girls on Facebook and the messaging app Kik.
"We're looking for the media's help and help from the public as we are examining the possibility of up to 500 victims here, most of which have not yet been identified," state Attorney General Brad Schimel said on Wednesday. "And we're looking for information that might help us to identify those victims to further protect them and also to hold this individual accountable."
This specific type of extortion has come to be known as "sextortion," in which someone coerces another into performing pornography by threatening to release explicit images of them if they do not comply. While the FBI claims that sextortion is the single-largest growing threat to children on the internet, only five states have made it a felony.
The charges are a result of the federal investigation, which found that Harris victimized minors on the messaging app under the usernames Zero, Bowromes, Akito, Lelouch, and Kami. If convicted on the charges — two counts of child pornography, extortion, and stalking — Harris could serve up to 77 years in federal prison.