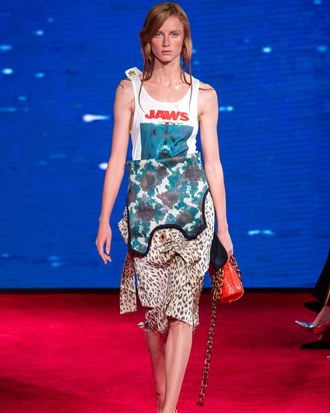 Raf Simons loves TV and movies. In his past, Simons has referenced Wile E. Coyote and the Road Runner and Safe, and he once literally filled a venue with popcorn transported from Illinois. At his SS19 New York Fashion Week show for Calvin Klein, the movie was Jaws. The soundtrack played in the background, T-shirts were tie-dyed with what looked like bite marks, and some models walked the runway in Jaws T-shirts with the movie ad on it (and a CK logo overlaid on top). If the looks struck your fancy, know that you don't have to shell out for the Calvin Klein version. Similar styles are available on Amazon for $15.
Everyone loves a logo tee, and at the moment everyone loves Calvin Klein. They were shown on the runway with oversize blazers, miniskirts, and valedictorian caps. Feel free to shear off the sleeves for a more muscle-tee look. You can trust that some very well-dressed celebrities will be wearing this collection come next spring so why not get a jump on it? Consider this a cheap, low-brow see-now-buy-now. Shop three iterations below.
Available in sizes S–5XL.
Available in sizes S–5XL.
Available in sizes S–XXL.
If you buy something through our links, New York may earn an affiliate commission.