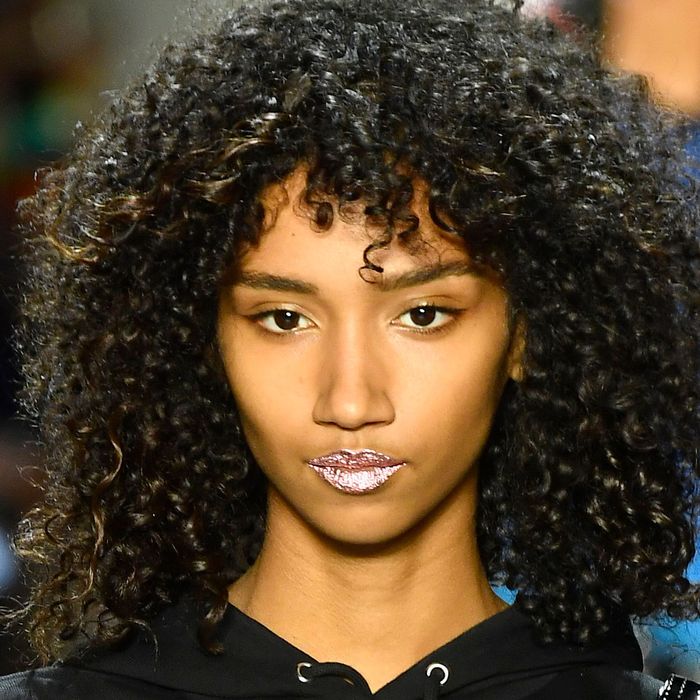 Photo: Frazer Harrison/Getty Images for NYFW: The Shows
Backstage at Jeremy Scott last night, makeup artists whipped up a special glittery lip look inspired by someone Scott knows well: himself. Influenced by Polaroids of his old club-kid days, Scott prepared for the show by finding YouTube videos of lip foils and DMing them to his lead makeup artist, Kabuki.
A lip foil allows you to cover your lips with metallic glitter through a transfer process. "I ordered some, but they didn't really work," Kabuki said. After a lot of trial and error, he managed to discover a kind that did work, but he wouldn't tell us where they came from. His team affixed them to the models' lips with Duo eyelash glue, then ripped them off like a Band-Aid. The payoff was a set of super-shiny lips in rose gold, roughly the color of Nicki Minaj's new hair. For touch-ups, Kabuki added a bit of M.A.C glitter in Pink onto the lips, too.
If you want to attempt a similar glittery look for Halloween (or really for any time — perhaps a festive drivers'-license photo?), Kabuki says you can also press glitter onto lipstick (the Pat McGrath glitter lip-kit method). His big secret is Duo's Eyelash Glue With Vitamins (the green one, he emphasized), which he says dries more evenly, isn't as abrasive to the skin, and will ensure that a glittery lip lasts all night. After all, no one likes a glittery lip print on a red Solo cup.