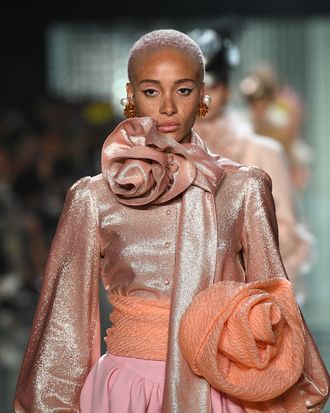 Model at Marc Jacobs.
Photo: Slaven Vlasic/Getty Images for Marc Jacobs
Not inspired by glass hair or cold-brew hair? Marc Jacobs can help. For this spring 2019 show, every single model walked the runway in a special, permanent hair-color shade personally chosen by Jacobs himself. A total of 37 different hair colors, never before seen on a Pinterest board, walked between a double line of Lucite chairs for the show, all hand-matched to Jacobs's '50s-film-star–inspired designs. "It's happy hair," said hairstylist Guido Palau, Redken's creative consultant, who teased and shaped the hair into smooth, egg-shaped chignons. "It's joyful."
Josh Wood, Redken's global creative director, spent three days bleaching, coloring, and processing the models' hair, right up until moments before the show. Although Kaia Gerber got to keep her original brunette color, everyone else was dyed to match Jacobs's clothes, creating an arresting color board of muted, pastel tones. It wasn't a Jordan almond effect — none of the colors could be simply described as baby blue or millennial pink or like they belonged in your great-aunt's silver candy dish. Instead, Wood used words like "inky violet blue black," "Irish setter red," and "silver green" to describe the shades, which were blended using multiple tones to create a Monet-like color effect. Wood and Jacobs wanted to create a "grown-up pastel," a pastel with "history," he explained, one that felt "vintage." To achieve colors that looked at the past, rather than looking like they were from the past, Wood gave each a metallic under-color (titanium in many cases), with a bit of root color remaining at the base.
Plenty of "bump-its" (but no Snookis) were also seen backstage. (According to Palau, the technical term for these volume-fakers are "hair cushions" or "poufs.") He and his team used them to shape the clouds of hair color into one of three styles: the Lee (a smooth French-twist style with a curled pony inspired by Lee Radziwill), the Barbra (a dome-shaped, graduated bob inspired by Barbra Streisand), or a buzz cut. Palau called the heights of volume a little "Egyptian-inspired," nodding to the elegant neck-lengths seen in pictures of Nefertiti.
Finishing out the color story, lead makeup artist Diane Kendal and her team created washes of color (using new shades of Marc Jacobs O!Mega Gel Powder Eyeshadow, fresh from the factory) on the models' eyelids, extending all the way up to the eyebrow. She then added a line of black or brown eyeliner to give the soft colors a bit of structure. At this point, Jacobs cut manicurist Jin Soon Choi and her team a break. Because he was worried that adding a nail color would be "too much," every model had bare nails. However, six models got pedicures in new shades of Enamored Hi-Shine Nail Lacquer that will be coming out next year. Lucky.