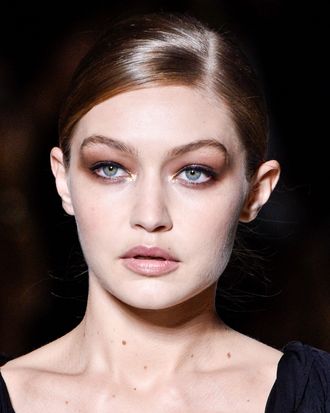 Gigi Hadid.
Photo: PIETRO D'APRANO/FilmMagic/Getty Images
A smoky eye is the Rubik's Cube of beauty. There are so many colors involved, and it's surprisingly hard to get them all to click into place.
It might warm your heart to know that smoky eyes aren't that easy for makeup artists either. At an hour before Tom Ford's spring 2019 show, makeup artists furiously swished their brushes across the eyelids of Gigi Hadid, Joan Smalls, and Kaia Gerber to create what Ford called his "most sensual" look in several years. On the eyes alone, there were no less than ten products including cream shadows (specifically Tom Ford Cream Color for Eyes in Sphinx), powder shadows, and liner. The eye look was a diffused, super-soft, smushy, glossy brown cloud that floated from the crease up to the eyebrow. It was beautiful and not for amateurs.
Here's what non-professionals like you and me can take away from the look: It's okay to mix your eyeliner and lip balm. (Just don't apply the concoction to your lips.)
After drawing a thick stripe of eyeliner close to the lash line, lead makeup artist Diane Kendal took a tube of Rosebud Lip Salve in one hand and a brush in the other. She dotted a tiny squeeze of the lip balm onto the center of the eyelid, blended out toward the crease, and then repeated the gesture until the whole eyelid was gleaming. For a beauty look appropriate for a man who used to take five baths a day, Kendal did this trick over a lid that already had a base of four eye-shadow colors, but it also looks sultry and great over a bare lid.
"It breaks it up and diffuses it a bit," she said. This trick works better with eyeliner rather than eye shadow, since it's more pigmented and harder to blend on its own, explained Kendal. It helps the eyeliner to thin out so it's softer, and adds a shiny texture for that Rihanna glossy eye effect. And the best part: You can do it with products you already own.
If you buy something through our links, New York may earn an affiliate commission.