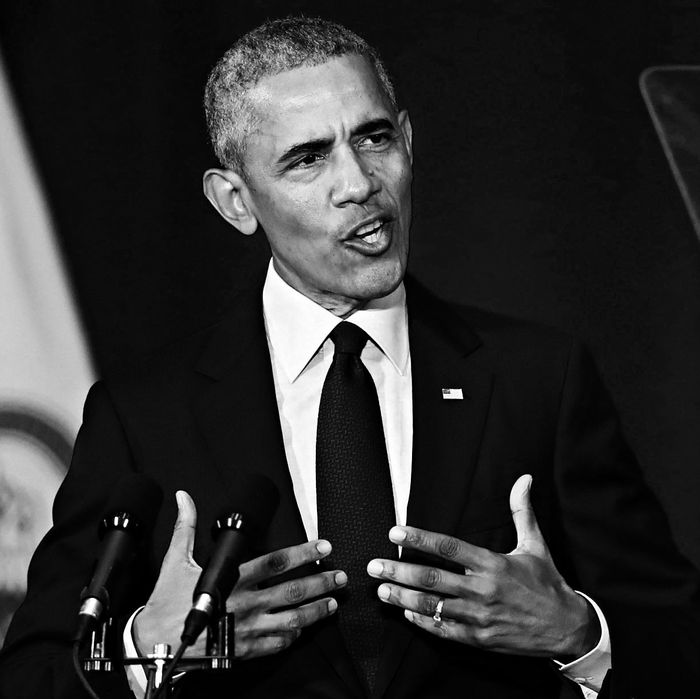 President Obama.
Photo: Scott Olson/Getty Images
The year is 2018, and today, a former U.S. president called out the sitting U.S. president for failing to denounce Nazis. Then the sitting president said he found his predecessor's words boring.
During his speech at the University of Illinois at Urbana-Champaign on Friday, President Obama alluded to President Trump's comments — when Trump said he condemned the "hatred, bigotry, and violence on many sides" — following the deadly white nationalist rally in Charlottesville last year
"We're supposed to stand up to discrimination," Obama said, appearing baffled. "And we're sure as heck supposed to stand up clearly and unequivocally to Nazi sympathizers!"
"How hard can that be, saying that Nazis are bad?"
When asked about Obama's speech, Trump reportedly said, "I watched it, but I fell asleep. I've found he's very good, very good for sleeping."
The speech was one of Obama's first major public appearances of 2018, and comes ahead of several planned campaign events for the upcoming midterm elections.
In addition to denouncing white supremacists, Obama endorsed Medicare for All, and condemned this week's anonymous New York Times op-ed by a senior administration official claiming to work for a resistance within the Trump administration.
"The idea that everything will turn out okay because there are people inside the White House who secretly aren't following the president's orders, that is not a check," Obama said. "I am being serious here. That is not how our democracy is supposed to work."
Watch his full speech here.