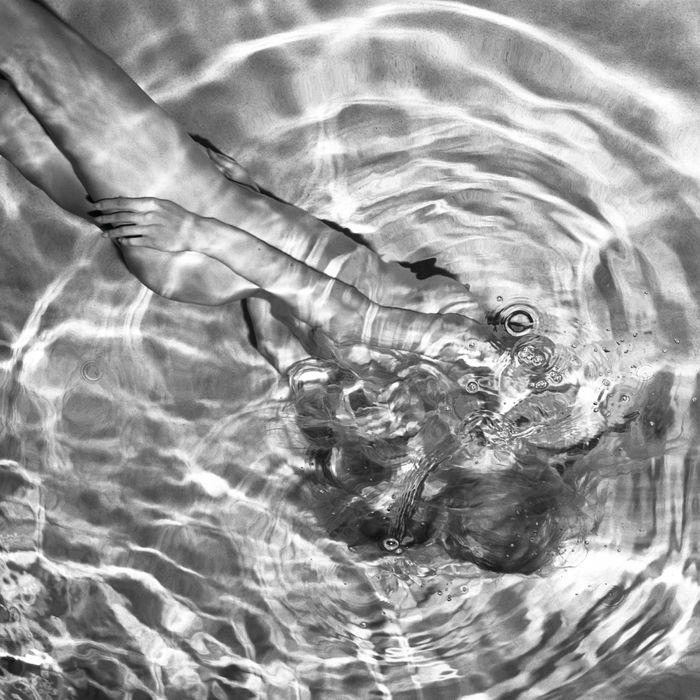 A photo by Michael Dweck.
Photo: Michael Dweck
All art ostensibly has a deeper meaning and/or purpose, but a new exhibit called The Art of the Sea is unusually direct about it. The selection of ethereal images, on view at the Quin Hotel just south of Central Park in New York, is a collaboration with the Surfrider Foundation, a charity which raises awareness about climate change. The images show people swimming through the water, tigers lounging in the shallow-end, and surreal photos of refrigerators in the waves.
The exhibit, curated by DK Johnston and Nicole Ianniello, spans multiple mediums including video, silk prints, and photography. One of the more impressive undertakings is a 13-screen video wall installation by Dan Balilty.
Ianniello told the Cut, "Water and the ocean are so healing for me. I chose to curate an exhibition exploring this theme to bring those revitalizing qualities to life through visual art, and to partner with Surf Rider Foundation to raise awareness on impacts of global warming on the world's oceans, including rising sea levels and an urgent need for coastal communities to adapt to a changing climate. It felt like the perfect combination to be able to help support them."
See a selection of photos from the exhibition below. It's on display and free to the public at the Quin Hotel in New York from tonight, September 20, through November 8.