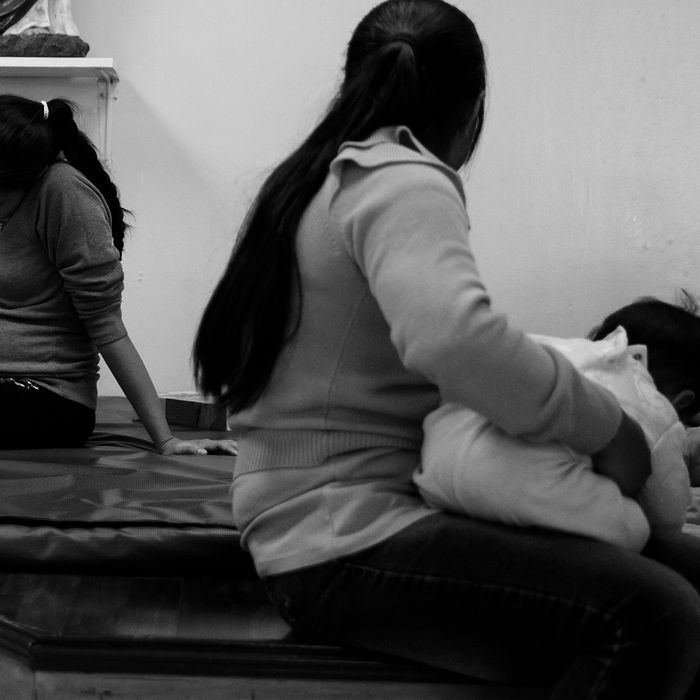 Detained families.
Photo: LOREN ELLIOTT/AFP/Getty Images
Despite the public condemnation for detaining children, a rampantly increasing number of migrant children are being detained by the U.S. government. According to a New York Times report, 12,800 children are currently being held in detention centers. That is more than five times the 2,400 children that were held in detention in May 2017.
According to the report, the increase is due to fewer children being released from detention centers to families or sponsors, not because of a higher number of children entering the country. Many of the children are teens who migrated alone from Central America. The people who might otherwise be coming forward to take these children in have been scared away by the Trump administration's strict immigration policies.
The data was reported to members of Congress and shared with the Times, and showed that the system for detaining children is nearing 90 percent capacity. This has disadvantaged both the children and the centers.
The Trump administration's apparent solution to this issue is to expand the size of their "tent city" in Tornillo, Texas. On Tuesday the government announced that 3,800 children would be able to fit into the temporary detention center.
Previous reports out of centers holding migrant children include sexual, verbal, and physical abuse; insufficient medical care; and substandard facilities. Studies have also shown that children kept in detention can suffer from severe trauma, even after being released.