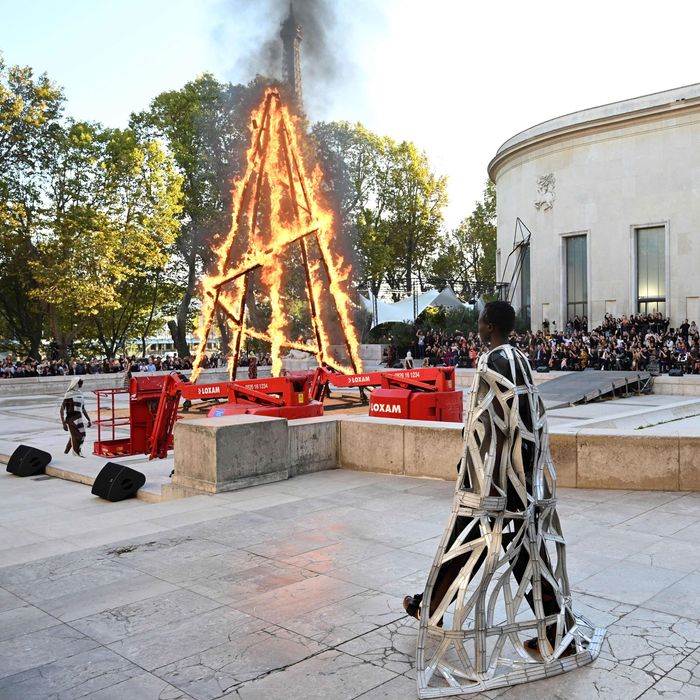 Photo: BERTRAND GUAY/AFP/Getty Images
Fashion happens faster than ever these days. Each week, we attempt to make sense of it in a column called, "What Is Fashion?"
Being a woman in America often requires the use of multiple tabs. On Thursday morning, my personal browser felt particularly disparate. As I sat at my desk, glued to my computer screen, I had one window open to the livestream of Judge Brett Kavanaugh's Supreme Court Confirmation hearing, in which Professor Christine Blasey Ford testified that he had sexually assaulted her in high school. And another open to a long-overdue draft about a fashion trend I'd noticed on the spring 2019 runways in Paris and Milan. Needless to say, I was having trouble finishing it.
Here was the idea: Designers think we should flaunt our underwear in public next season. In fact, underwear should be the focal point of an outfit, and maybe even the only thing you need to wear. (Yeah, I know.) It's not a new idea, but during New York Fashion Week, Rihanna made a great case for this with her Savage x Fenty show. The model Slick Woods, who was nine months pregnant at the time, even went into labor immediately following — it was that exciting.
Meanwhile, in Europe, girly punk Prada women walked the runway in unflattering white tighty-whities, which were worn under nothing but sheer black evening dresses. At Gucci, men wore bedazzled jockstraps and underwear inspired by the Birth of Venus over their suits. And at Dries Van Noten, the slightest hint of neon briefs could be seen through breezy, floral-print caftans. In the world of fashion, three is all you need for evidence of a trend.
Wearing your underwear on the outside is an obvious provocation designers have used for decades — one Miuccia Prada is particularly fond of. It's a way of playing with sexuality, and of deliberately gesturing at the gap between how clothes are styled on the runway and how women wear them in real life. Designers, at least if they're smart, want us to consider how we might bridge that gap, and that's where the fun comes in.
But in the face of Thursday's events, even thinking about any of this felt pointless and borderline offensive. How could I suggest that women walk out the door with their underwear showing at the same time that Dr. Ford was asked to relive her most private trauma in front of the world? It felt wrong to even write about clothes at all, especially as my colleagues worked tirelessly to cover every aspect of what actually happened during the hearing. On Twitter, Vanessa Friedman of the Times said, quite understandably, that she was going to refrain from sharing photos of Paris Fashion Week for the rest of the day.
The timing was definitely bad, but I was conflicted. Reality holds fashion accountable, and by divorcing the two, we only further allow ourselves to exist in a bubble. I also don't actually believe that fashion is so shallow and meaningless that it must be shunned during dark times. Some people look to TV, music, novels; I look to fashion when I need help making sense of things, or a sense of direction. In theory, this whole month is dedicated to thinking critically about what women want and need in the future. It's about moving forward, and that's not nothing.
Fashion is always political in its own way, even when it fails to engage with politics. And sometimes, the runway can be a good platform for progress. Kerby Jean-Raymond of Pyer Moss makes explicit political statements about the African-American experience season after season. Others brands offer some respite in the form of exuberant color (Dries Van Noten), or avant-garde fantasy (Comme des Garçons), and that can be helpful, too. Meanwhile, Rick Owens just set everything on fire.
Of course fashion's powers are limited. A lot of designers this season lacked a substantive vision or missed the mark. John Galliano's show for Martin Margiela on Wednesday, for example, was part of a larger fragrance campaign selling the scent of "mutiny," which felt forced. (According to his podcast, the revolution smells like tuberose and orange, with a hint of cocoa.) Fashion Week is not going to solve our problems or change anyone's mind. But if used correctly — as a form of art that works to enrich, not discriminate or dupe — it can be a joy. Why should we deny ourselves that?
What I'm trying to say is: I loved that Prada look. It was funny, yet dared you to laugh. It didn't seek to please anyone but the wearer (those undies are not cute) — and a woman pleasing herself feels provocative to me right now. Mrs. Prada is a master at capturing these dualities. Her woman is not defined by one point of view or experience, but many at once. She is not the male fantasy of a passive-yet-sexual woman in lingerie. She is a person who wears underwear, like all of us, and she has chosen, through her own agency, to show us her white granny panties. Why? This is underwear that makes you think about the brain and the body of the woman who's wearing it.
The dissonance between watching Kavanaugh's hearing and seeing what designers were sending down the runway was a mind fuck. In the morning, I wanted to switch careers. But by the end of the day, I was ready to consider anything, even spring trends, as a possible path forward. What if we read all these undergarments as a confrontation? As a refusal to hide any longer? Or a cry for some real honesty? Of course, I'm not going to show up to work on Monday in my underwear, and I don't expect anyone else to, either. But I do like the idea of forcing the world to reckon with every layer of my existence; all my tabs.