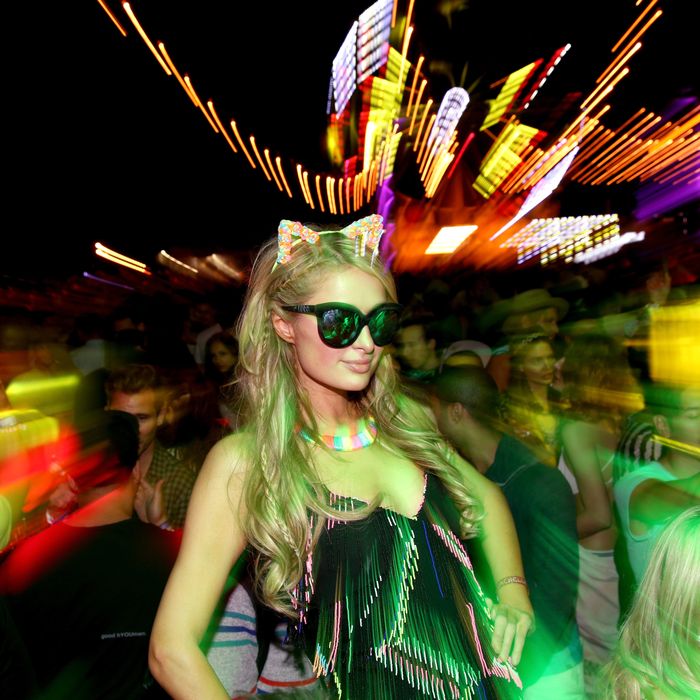 Paris Hilton.
Photo: Jesse Grant/Getty Images for NEON CARNIVAL
There's been so much neon at New York Fashion Week this season, from the runways — Matthew Adams Dolan, Jeremy Scott, Prabal Gurung — to street-style stars wearing slime-green neon turtlenecks. It would be easy to think for a moment that you were at Burning Man, instead.
Paris Hilton, who was at both Burning Man and New York Fashion Week, is uniquely positioned to offer her two-cents on the trend. Neon is her life, because her life is one long rave. So, we asked her about it. "I'm obsessed with neon," Hilton told the Cut at Monse's spring 2019 show on Friday, where she sat front row with her sister, Nicky Hilton, and Nicki Minaj. "Ever since I was a little girl, neon pink has been my favorite color. I never stopped loving it."
Strangely, Hilton was wearing the opposite of neon that day, in black Monse pants and a white polka-dot top by the brand. But she proved that neon can be a lifestyle as much as a color. "If I was a color, I would be neon pink," she said. "I love that it stands out. It's just like, epic."
As someone interested in dabbling in neon myself, I wanted to understand from the source how to really immerse myself in the neon lifestyle. Hilton DJ'd for the whole week at Burning Man this summer, (it was "sick," she said), so I asked which song would transport me to the neon desert. Her answer? "Time" by the Pachanga Boys. Hm.
Here it is below, for your listening pleasure. Next time you're getting dressed, maybe hit "play" and let the neon wash over you.