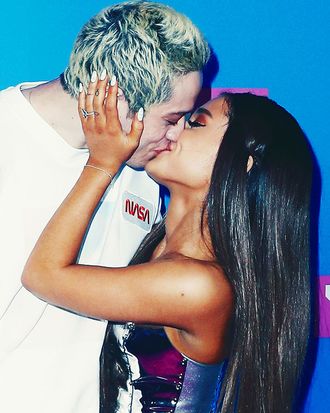 Pete Davidson and Ariana Grande.
Photo: JASON SZENES/EPA-EFE/REX/Shutterstock
Another stop has been added to the Pete Davidson-Ariana Grande 2018 Make-Out Tour. The two were spotted at popular West Village restaurant Carbone over Labor Day weekend, and according to multiple sources, they couldn't stop making out.
According to People, between bites of pasta, Pete and Ariana kissed like the happily engaged couple that they are. The Sweetener pop star and her fiancé were reportedly "were just making out over pasta all night."
"Pete even moved to the other side of the booth to make out some more," they told People. Another source said that when they arrived, "they went to the bathroom together and were holding hands."
GQ writer Cam Wolf was also at Carbone that night, and tweeted a similar account of the PDA. He didn't include a lot of details, but it's nice for the additional update.
Ari and Pete's make-out session sounds great, but they were just a spaghetti-slurp away from recreating a timeless Lady and the Tramp moment. Seems like a missed opportunity.