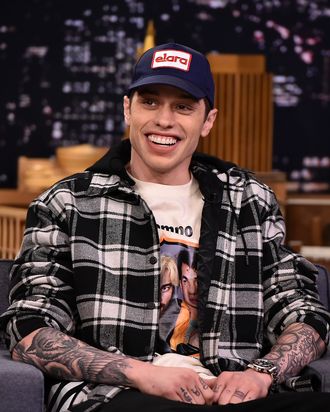 Pete Davidson and his tattoos.
Photo: Theo Wargo/Getty Images for NBC
Over the weekend, it was unclear if the tiny pig that Ariana Grande posted to her Instagram stories was her and Pete Davidson's new pet or merely a cuddly guest. Hopefully it's the former, because Pete just got a tattoo of the little animal on his torso.
Written underneath are the words "Piggy Smalls" which presumably is the pig's name. The tattoo was done by @girlknewyork on Instagram, who is an artist at Fleur Noire Tattoo Parlour in Williamsburg. Pete also got a tattoo of Winnie the Pooh, a few inches above the pig.
This is not Pete's first tattoo — he is covered with them. Both current fiancée Ariana Grande and ex-girlfriend Cazzie David have been inspiration for the artwork on his body, against the advice of one of his tattoo artists. He and Ariana also have matching "H2GKMO" tattoos and matching cloud tattoos on their hands.
This all seems like great news for Piggy Smalls. In the Grande-Davidson household, nothing says love like permanent ink.