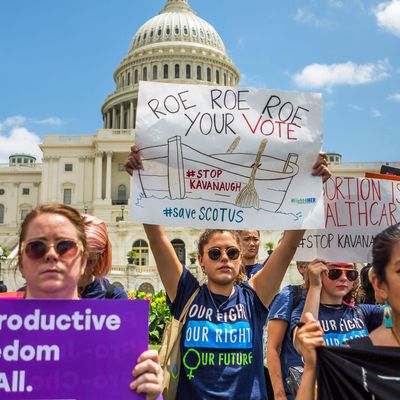 Activists in Washington, D.C., protesting Brett Kavanaugh's Supreme Court nomination.
Photo: Pacific Press/LightRocket via Getty Images
For all the talk about Brett Kavanaugh potentially overturning Roe v. Wade, the landmark 1973 ruling that legalized abortion in the U.S., a vast majority of Americans want to leave it alone.
In a new survey by Axios and SurveyMonkey, when asked "Would you like to see the Supreme Court overturn its Roe v. Wade decision?" 71 percent of respondents said no. That was the case for a majority of respondents in each of the given subgroups, including rural voters — who make up a large contingent of Trump's fan base — and "Never Hillary" independents, who Axios says are the most crucial swing voters in this year's midterm elections. In fact, the resulting numbers among those independents were equal to those of African-American women, 79 percent of whom were against overturning Roe. Meanwhile, 80 percent of suburban white women wanted to keep our current laws, and 71 percent of respondents between the ages of 18 and 34 agreed. Even among rural voters, a majority — 59 percent — said they would not want SCOTUS to overturn the decision.
While 90 percent of Democrats and 78 percent of independents want to keep Roe as is, the margin is much closer among Republicans; 45 percent want to overturn it, while 50 percent want to keep it in place, according to the poll's analysis. Still, the data shows that Republicans will need to gain the favor of important subgroups to maintain control of Congress.
Americans are more divided over Kavanaugh, though a majority don't support his confirmation as Supreme Court justice. When asked whether they approve of Kavanaugh as a nominee, 48 percent of respondents said no, while 44 percent approved. Kavanaugh's biggest opponents are African-American women, who had a 69 percent disapproval rating, and millennials, at 57 percent. And 50 percent of white suburban women disapproved, while 43 gave their support.
On the flip side, 50 percent of those "Never Hillary" independents approved of Kavanaugh's nomination, with 39 percent disagreeing; of rural voters, 56 percent gave their support, and 35 showed disapproval. According to the poll analysis, there seems to be a strong contingent of pro-choice Kavanaugh supporters — nearly one third of those who said they want to keep Roe also approved of Kavanaugh's SCOTUS nomination. That type of voter reportedly makes up 38 percent of the crucial "Never Hillary" independent voting bloc. Axios concludes that Democrats' fight to block Kavanaugh's confirmation could potentially alienate some of these voters, even as they may disagree with him on crucial landmark Court decisions. Only 7 percent of respondents said Kavanaugh's confirmation will be the most important issue in the midterm elections, but another 43 percent said it will be one of several factors in their voting decisions.
It's clear that as we gear up for election season, reproductive rights will be at the forefront of voters' minds.