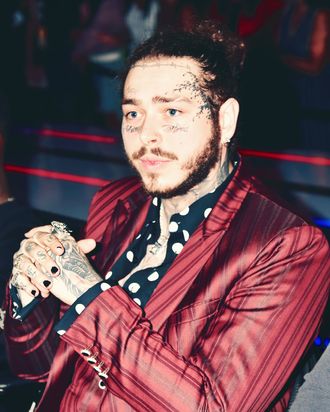 Post Malone.
Photo: Jeff Kravitz/FilmMagic
At first, it looked like Post Malone had gotten himself caught up in a classic Final Destination scenario. In August, right after the VMAs, the rapper and his entourage boarded a private plane to London, only to have the tires blow off immediately after take-off. The pilot managed to land the plane safely, but the Universe appeared to believe it had been deprived of a soul it was owed; a few days later, armed robbers broke into a house where Malone used to live and demanded to see him. Fortunately, he wasn't there. Again, he was fine, and again, the Universe seemed to rage. On September 7, the rapper's Rolls Royce was T-boned by a Kia in West Hollywood. He made it out unscathed. Now, however, it seems this string of misfortune is not the Universe working to correct an accounting error, but the result of a good old-fashioned curse, obtained from a haunted box.
According to TMZ, Malone visited Ghost Adventures host Zak Bagans's Haunted Museum in Las Vegas back in June. Bagans showed him around while Malone casually sipped a beer, and at one point brought him to see the dybbuk box that inspired the horror film The Possession. "Dybbuk" is Yiddish for "malicious spirit," and the box is believed to be the most haunted object in the world.
Usually, Bagan told TMZ, the box is covered with a protective casing, and you have to be over 18 and sign a waiver just to see it. But Malone is a celebrity, so Bagans let him see without the protective casing, because I guess celebrities are immune to most plebe curses.
Video from TMZ shows Malone hanging back and nursing his beer, his hand on the doorknob, while Bagan shows him the haunted box, his hand resting on top of it. Malone has a very "Dude, let's get out of here"–vibe, and reaches out to touch Bagan, who then jumps away from the box.
According to the ghost expert, that one moment of contact — Malone touching Bagan, who was touching the box — was enough to get the rapper cursed, which seems unfair, and like something Bagan should have made VERY CLEAR before they entered the room.
The curse must have been diluted by the time it reached him though, because Malone is fine as you can see from this Instagram of him promoting an e-cig.