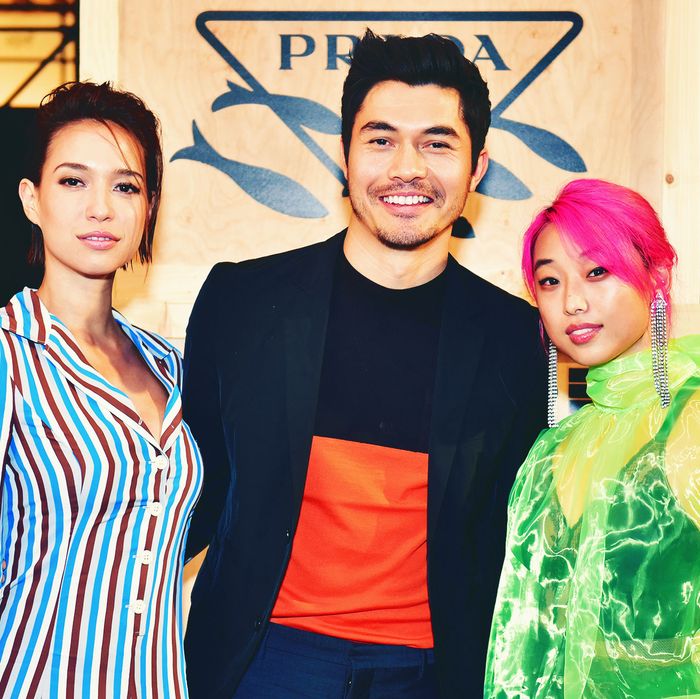 Liv Lo, Henry Golding, Margaret Zhang.
Photo: Sean Zanni/Getty Images
At the center of Prada's Soho store is an architectural element that looks like half of a skateboarding half -pipe. Given the moment skater style is having — especially at New York Fashion Week — it was a fitting backdrop for a glamorous party to celebrate the relaunch of the brand's technical line, Prada Linea Rossa. A crowd of models, actors, and Pete Davidson lookalikes gathered last night (and formed a line wrapping around the block) in their neon best.
Once inside, they sipped whiskey sours and ate truffle grilled cheeses while waiting to watch musician Kali Uchis perform on the half-half-pipe (quarter-pipe?). It may not have been accurate for actual skaters, but it was a nice fashion week facsimile. Even Crazy Rich Asians star Henry Golding was feeling burned by all that cool. "[This] is way cooler than I actually am," he told the Cut. "You could not get the polar opposite of crowds [than at Tom Ford and Ralph Lauren's runways]. This is a real New York experience here. I'm loving it."
Prada's popularity with that New York crowd of hypebeasts is sure to grow with the relaunch of Linea Rossa. It originally launched in 1997, emblazoned with the red Prada box logo (not too unlike Supreme's now that we think about it). The first look at the line shows lots of bucket hats, neon, and Velcro shoes. New York, get your wallets ready.