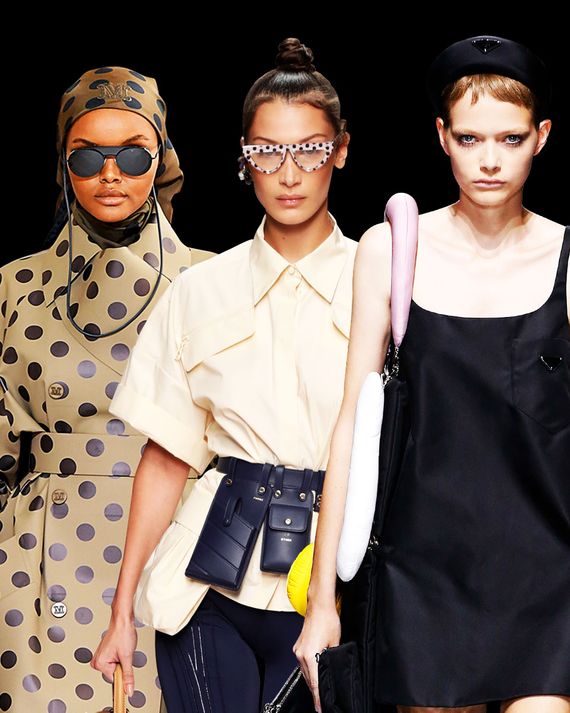 Max Mara, Fendi, Prada Spring 2019.
Photo: Getty Images
When I think of Italian fashion, I think family heirlooms: the Max Mara coat passed down from generation to generation, the Fendi baguette, the Prada nylon backpack. These pieces in particular are ones the industry likes to call "timeless," but the notion that anything remains constant in fashion is a lie. Styles change because the people buying them do, too. And on Thursday, these same brands sought to answer the question: In 2018, how do young people function? What do they carry on their backs and shoulders, that maybe their parents didn't?
It's a good question — one that goes beyond just fashion. Being young never feels easy when you're going through it, and especially not right now. But what if fashion could help you out a little bit, as opposed to just making you look and feel good? What if, in a word, it was actually functional?
The first day of Milan Fashion Week offered some answers. At Jil Sander, the design duo Luke and Lucie Meier showed a minimalist uniform. (They themselves adhere to a dress code of T-shirts, baggy trousers, and sneakers.) I like the idea of living a life where all my belongings could fit into a tiny Jil Sander pouch — is that luxury? — but that also doesn't seem so realistic. Nor did the larger bags models carried sideways, à la Celine. They had sharp edges, and definitely wouldn't fly on the Metro.
Alberta Ferretti, known for elegantly draped dresses, added enormous pockets this season, which rendered the accessories irrelevant. Models Kendall Jenner, Gigi, and Bella Hadid all walked in some combination of roomy cargo pants/shorts with a simple top. There were even overalls!
The next morning at Fendi, pockets were also the theme — this time in the form of tool belts, which, as we noted at Matthew Adams Dolan in New York, seem to be the new fanny pack this season. The brand also revamped its Baguette bag so that it could be worn across the chest, just like how the kids are doing it. Karl Lagerfeld even told the Times backstage, "We call this collection 'G.P,'" or "giant pockets."
It seems silly, the idea that fashion's just discovered that women could use some pockets, too. But here we are. Even sillier, I thought, was the idea that women need their pockets to be labeled with things like "keys," "coins," and "phone," as Fendi did. (Don't tell me what to do!) If brands really wanted to get with the times, perhaps they would add a "Juul" pocket, too. I think the point, though, is that it's possible for products to feel current, and also not one-size-fits-all.
At Max Mara, this was the goal. "We see three generations wearing the same Max Mara coat — and it's still not worn out," creative director Ian Griffiths told reporters backstage. There were cross-body bags, too, but the details that really stood out to me were the handkerchiefs worn around the coats' collars, as well as the button-up pants peeking out underneath. These additions made the "timeless" looks feel versatile, like I could live in them for days. Maybe even in the desert? Who knows. At Emporio Armani, which took place at the airport in a huge hangar, shirtless male models opened the show carrying giant surfboards; more fantasy cargo.
The day ended at Fondazione Prada, where per usual, the brand took the themes of the season and pushed them one step further. Miuccia Prada refuses to be confined by a simple idea like pockets; she's going for something more complex. Her woman carries a bag, sure, but you don't really know what's in it, or why. (I like to think she carries a pair of sharp scissors.)
As for the clothes, they were inspired by Prada's own wardrobe and possessed contradictions of freedom and conservatism — a sense of girlishness and edgy darkness — that your "prairie dress" could never, I'm sorry. Turtlenecks were embellished with bows, boy shorts worn with deep V-necks, and headbands were covered in deadly studs. There were bike shorts, (everywhere, bike shorts), but they were roomier, and paired with an elegant babydoll top. Cardigans and button-ups had holes cut out of the center, and one of my favorite accessories was a handbag dripping with what seemed to be the collection's leftover geometric shapes, created by Kazuyo Sejima as part of a collaboration with three female architects.
"Young people are different kinds — they're intelligent, they're stupid, they're cultivated, they're not," Mrs. Prada told reporters backstage. "What worries me," she added, "is simplification. […] If you take away content and simplify, at a certain point you can't say anything."
Ironically, one of my favorite spring 2018 Prada pieces — along with the black nylon babydoll dresses — was a simple, sheer black dress worn with a pair of boyish white briefs underneath. Most people wouldn't be caught dead wearing granny panties, (maybe even period panties, if you will) with such an elegant, evening look. But the Prada woman doesn't care. She also doesn't carry a bag. She just walks right out the door, taking on the world alone.