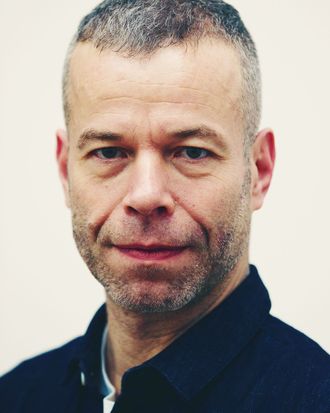 Wolfgang Tillmans.
Photo: DANIEL LEAL-OLIVAS/AFP/Getty Images
Inside the New York Public Library last night, the audience at the lecture series NYPL LIVE! eagerly listened to a copy machine for several minutes. "I've never heard a group of people applaud for a copier machine before," said interviewer Paul Holdengräber once the sound was over. He turned to artist Wolfgang Tillmans, the subject of the lecture and the artist behind the copier video, and asked a simple question: "Why?"
Tillmans is a supremely good-natured German photographer. His answer: "I just had this idea for a long time. It's so important to take these ideas seriously."
Some of Tillmans's best-known non-copy-oriented works are portraits of his friends, naked except for open coats, sitting in a tree. He's also worked with Frank Ocean. The conversation with Holdengräber ranged from the stages of death to the state of the European Union (Tillmans is very much pro-EU) to talking about whether you could stay at someone's apartment for a "wild night" if they had no art on their walls. Tillmans answer is yes, but he added that it's more difficult if they have bad art on their walls.
Intrigued? Tillmans has an exhibition opening at David Zwirner titled, "How likely is it that only I am right in this matter?​" As one can glean from the title, it covers politics, individuality, and the notion of truth. The exhibition opens on September 13 at David Zwirner on West 19th Street.