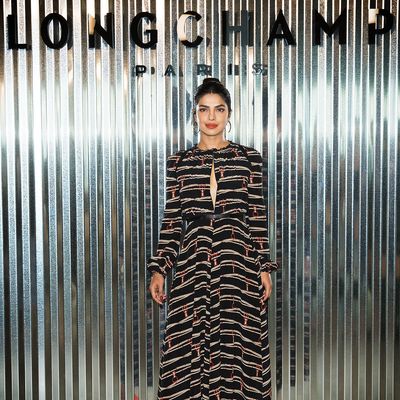 Priyanka Chopra.
Photo: Pablo Frisk
"It's crazy, this time of the year, but I always enjoy it," said Priyanka Chopra at New York Fashion Week on Saturday. The actress sat front row at Longchamp's debut show wearing a long, breezy dress by the brand, her hair styled in a messy bun. "I love seeing what people are doing and what the new styles are," she added, glancing over at Kate Moss and Kendall Jenner sitting next to her.
What are the new styles, you ask? Well, according to Chopra, the '90s are (still) having a comeback. "Crop tops!" she squealed with a laugh. "They're my favorite."
Lucky for Chopra, there was at least one crop top to be found on the Lonchamp runway. But beyond the '90s, she was actually really looking forward to dressing for fall. "I'm very moody about my clothes, but I like everything to be very put-together," Chopra said of her taste. She was in the mood for some turtlenecks and blazers.
Maybe that was because the night before, Chopra attended Ralph Lauren's 50th anniversary bash at Central Park, which she was still swooning over. Although her fiancé Nick Jonas was her date, she said she finally got to meet her childhood crush, Tyson Beckford, who modeled for Ralph Lauren during her favorite decade.
"He happened to be sitting right next to me," Chopra said of Beckford. "And he kept making fun of the fact that I'd had such a huge crush on him." Did he live up to the hype, though? Oh, yes. "He was so lovely to Nick and I," Chopra added. "And my mom, too, actually."
We're pretty jealous that Chopra got to meet her crush at Fashion Week. When is someone going to invite Noah Centineo?