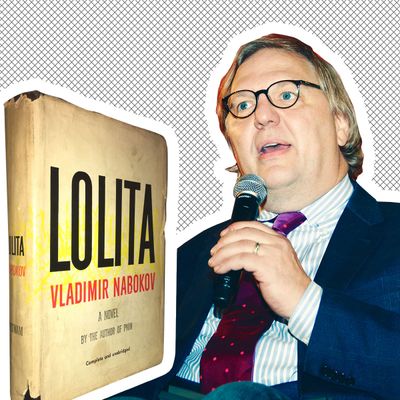 John (picnic, lightning) Hockenberry.
Photo: Chris Bonanos/Getty Images
One result of my publishing a book about the real-life case that inspired Lolita, the 1955 novel by Vladimir Nabokov that continues to shock and disturb more than 60 years after its publication, is that people feel compelled to share their opinions about the novel. They tell me they love it, they loathe it, they are disturbed by it, they want to explain it. Those are reactions I expected, and planned for.
More surprising, though, is the number of people — men, usually — who tell me how guilty they feel about reading Lolita, that they once failed to see what it was really about. That they didn't see Dolores Haze, the 12-year-old girl the novel's narrator, Humbert Humbert, nicknames "Lolita", as a victim but instead as a seductress. That they failed to see how the real-life case, the 1948 kidnapping of 11-year-old Sally Horner, was directly referenced in the text, and a key influence for Nabokov.
Those men are far from alone. Humbert Humbert is one of the most notoriously unreliable narrators in literature. His description of his monstrous obsession with pre-pubescent girls, whom he characterizes as "nymphets", is to fool the reader into going along with his criminally skewed worldview.  Nabokov's dazzling, inventive language overrides the ugly truth that Humbert is a pedophile who rapes 12-year-old Dolores Haze repeatedly over a nearly two-year cross-country odyssey. It is all too easy to take Humbert at his narrative word that young Dolores initiated their sexual relationship, that her wish to lose her virginity justified his illicit (and illegal) desires. There is no reason to trust him. But the last 60 years have shown that millions of readers of all stripes and designations do trust Humbert, and buy into the notion that Lolita is a universal love story.
Which is why it was particularly baffling for me to read John Hockenberry's Harper's essay. Hockenberry, the longtime host of PRI's The Takeaway, did not have his contract renewed in 2017 after multiple co-workers and contributors came forward with stories of sexual harassment and workplace abuse. Hockenberry's dismissal from PRI happened during the first wave of #MeToo reckonings that followed the Harvey Weinstein revelations. His public return, through the highly prestigious platform offered by Harper's, occurred as his sexual misconduct brethren attempted comebacks of their own — including the surprise stand-up set by the comedian Louis C.K. and the Canadian musician and radio host Jian Ghomeshi's own self-serving apologia in the New York Review of Books.
That Hockenberry waited barely a year to write his essay is in keeping with the consensus impatience of these so-called canceled men and their collective inability to admit, let alone comprehend, how their behavior harmed women. But Hockenberry wasn't satisfied to follow the usual narcissistic playbook. He had to bring Lolita into it.
The novel was part of Hockenberry's "small personal canon of works and experiences that I have had to or chosen to reexamine." With respect to Lolita, at least, his initial and concluding judgments betray skewed thinking. Saying that he "became completely certain that Nabokov would have been arrested if it were published today" misses the point, because Lolita is so wholly rooted in post-World War II America, with its narrative set between 1947 and 1952, that it could not exist as a contemporary novel. Those who have tried to update Lolita, like John Colapinto with Undone, found an audience indifferent at best, with sales to match.
The most galling part of Hockenberry's re-examination of Lolita is his ultimate conclusion: that he found himself "identifying with Lolita, her innocence lost along with any identity other than sexual" because he, like Dolores Haze, had "nowhere to go." That a man fired for repeated sexual harassment, one who could hardly wait before jumping back into the public fray, aligns himself with the victim of repeated horror demonstrates a stunning lack of understanding — and shame. Whatever Hockenberry lost paled in comparison to the losses of the women he harassed and humiliated. Whatever humiliations he felt don't deserve to be discussed in the same sentence as rape.
I would imagine, too, that Hockenberry's identification would mortify the Nabokovs. As Vladimir's wife, Véra, wrote in a diary note days after the American publication of Lolita in 1958, "I wish, though, somebody would notice the tender description of the child's helplessness, her pathetic dependence on monstrous HH, and her heartrending courage all along."
Sixty years later, more people are noticing what Véra hoped for. But the flip side is that more people, particularly men, are clinging to Lolita to absolve their own terrible behavior. Dolores Haze is not a therapy animal. Feeling guilty about the trauma of girls and women doesn't absolve you of your own bad deeds and thoughts.
And as more #MeTooed men step forward to reclaim what they felt they were always entitled to, let's keep the focus on those they harmed, who always mattered more — and always will.
Sarah Weinman is the author of The Real Lolita: The Kidnapping of Sally Horner and the Novel That Scandalized the World (Ecco).