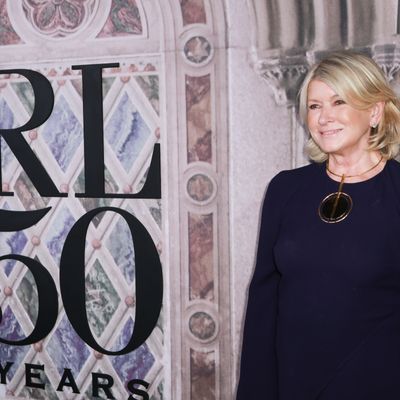 Martha Stewart.
Photo: Gonzalo Marroquin/Patrick McMullan via Getty Images
Ralph Lauren's 50th Anniversary show brought the glamour back to New York Fashion Week. In addition to the four collections debuted, the guest list rivaled the most illustrious events of the year, featuring movie stars, political powerhouses, top designers, and musicians.
Donna Karan, Calvin Klein, Vera Wang, and Annette de la Renta sat next to each other. On another front row, Tom Hiddleston, Kanye West and Chance the Rapper. Elsewhere: Oprah Winfrey, Pierce Brosnan, and Robert de Niro.
Hillary Clinton, Bee Shaffer, Anna Wintour, Blake Lively, Nick Jonas and Priyanka Chopra, Anne Hathaway, Michael Kors, Diane von Furstenberg, Alexander Wang, Anderson Cooper, Martha Stewart, and Jessica Chastain were also in attendance. Check out the photos below from one of the most A-list guest lists of the year.