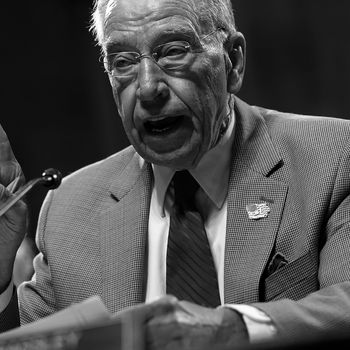 Senate Judiciary Committee Chairman Chuck Grassley.
Photo: Alex Wong/Getty Images
A lawyer for Deborah Ramirez, John Clune, tweeted that the Senate Judiciary Committee "refused to meet all scheduled appointments" with Ramirez and her representatives. Ramirez is the second woman to come forward with allegations against Supreme Court nominee Brett Kavanaugh, who went on the record in a New Yorker report on Sunday.
Clune claims that Ramirez and her legal team reached out to the Judiciary Committee about bringing forward her information, but the committee failed to meet her. Ramirez also requested an FBI investigation into her claims, according to Clune.
"Our client remains adamant that is the appropriate venue for her to discuss her trauma," Clune wrote. "Ms. Ramirez is ready to swear to the FBI under penalty of perjury. Why won't the Senate Judiciary Committee welcome that?"
Christine Blasey Ford, Kavanaugh's first accuser, also requested an FBI investigation but was denied. Her hearing about her allegations, which says happened while she and Kavanaugh were in high school, is scheduled for Thursday. The vote on Kavanaugh's confirmation to the Supreme Court is scheduled for Friday.