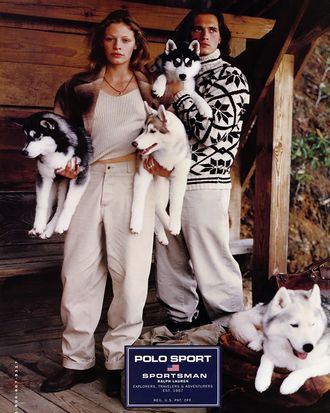 Photo: Courtesy of Ralph Lauren
On September 7, Ralph Lauren will celebrate its 50th anniversary on Central Park's Bethesda Terrace with LED sculptures, a runway show, and dinner. Here, on the Cut, we will celebrate not with LED sculptures, a runway show, and dinner, but instead with a look back at some of Ralph Lauren's notoriously dog-heavy ads, and with a ranking of the very good dogs therein.
I hear your immediate question. Aren't all of the dogs in the ads technically ranked No. 1? Yes, of course all of the dogs in the ads are technically ranked No. 1, because they are all very good and very sweet and they are the one thing in life that brings unencumbered joy. However, we must rank these dogs and I will take no more questions, thank you.
13. The Back Seat Tongue Buddies
Look at these three little sweeties. Tongues out, in the back seat of a car, arranged according to who has their tongue out the most. I love to see a dog having fun in the car, relaxing and taking a ride. Vroom, vroom, doggies. You're No. 13, which you may think is unlucky but, actually, in our book it is lucky. Good job.
12. Ms. Fancy
So elegant, sitting and staring with an expensive collar. "Is this necessary?" you can imagine the dog is thinking. "I can just have a normal collar, or actually I would prefer no collar if that's an option." But no, for this photo the dog had to wear an expensive collar, and she did it with grace. Thank you for your patience, doggy.
11. The Patient Little Puppy
Oh no, puppy. I'm sure this wasn't your ideal day and it's certainly not your ideal crowd, but at least you get to be out in the sunshine. "I'm not here, this isn't happening." Remember when Thom Yorke sang that in "How to Disappear Completely"? I read that Michael Stipe said it to him over the phone once. Anyway you're a very good dog.
10. The Spot Sisters
Out on the town with their owner, the spot sisters are ready to take on whatever life may bring to their enormous heads. Two sweeties, I just love them. Wanna give 'em a big kiss on the face. Give 'em a big scratch and a hug. Oh, sweet pups.
9. The Protective Duo
These two big guys coming in at No. 9 seem like they're always up for a walk on a hill. Quiet and protective, they'll watch out for any dangers potentially awaiting their human friend.
8. Hello!
"Hello!" Just when you thought you were looking at cars and not dogs, this dog is here to surprise you with her happy face. "I'm here, too! Hello!"
7. Fancy Day Boy
This dog is willing to participate in the wedding if he must, and he will give not even the slightest hint of attitude about it even though privately he does not want to participate in the wedding. He's a champ, and that is of course why he has come in at No. 7.
6. The Little Man
Boop! It's the little man!
5. All These Guys
Hello, hello, hello, hello. One dog and the woman looking right at the camera, rest of the dogs and the man looking away, all dogs looking very soft and like they'd be excellent to take a nap with, particularly if you were wearing the outfits of the models. Of course, these four doggies come in at No. 5.
4. Potentially the Car Dog Again
Is this the same dog as the car dog or does it just look like her? Huh. Hard to say, but what's easy to say is that I love her. Look at her, sitting. She's doing a very good job, very good sitting for the photo.
3. The Vacation Brothers
I love these little guys. Look at those funny faces. And the ears! Oh, the ears. They're out here just enjoying life, sitting near the beach with their wealthy owner, reading a book, talking to each other. "Nice day." "Nice day, yeah."
2. Your Stoic Friend
Now here is someone who will love you forever. Oh, I love him. Those big ears and understanding eyes. The eyes do look a little upset in this photo, okay, yes, but I have to imagine that's because he just saw one of his owner's enemies. This is a sweet boy. Your friend.
1. The Comforter
Gentle dog, comforting his owner who is lost in a far-away memory. Of what is she thinking? Something about an old love, or an old friend, or some sort of a perfume. The dog doesn't know, but it doesn't matter to him. He is there to comfort her regardless.