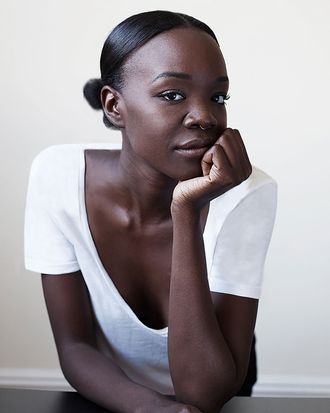 Recho Omondi.
Photo: Coutesy of Recho Omondi
Recho Omondi started designing her own clothes while working as a pattern-maker, salesperson, and nanny. In 2014, she launched her own brand, and now she's responsible for some of the coolest outfits on Insecure . She may be best known for her hand-stitched sweatshirts and graphic tees, but her collection also includes a plethora of tailored pants, sequined dresses, and gorgeous draping (case in point: her deep chocolate-brown nude Henley gown. She doesn't show at New York fashion week, which only adds to her cool factor; if you know, you know. We spoke with the designer about the inspiration behind her brand, flip-flops, and good and bad trends.
What is the inspiration behind your brand? 
It's one big personal diary.
How do you thank someone for a gift?
With a Tom Dixon candle.
What would you never wear?
Flip-flops.
What's your dream vacation? 
Anywhere that gets me outside of my own head.
What's a good book on your coffee table right now? 
Future Shock by Alvin Toffler.
Favorite piece of furniture in your apartment/office? 
The thrifted desks.
Last show you binge-watched?
 The Handmaids Tale. 
What's your go-to dinner-party meal?
I'm not a big food person.
What is a trend that you like right now?
Sweatpants.
One you don't understand? 
Bad graphic design. 
Shoes you wear most often?
Dirty Reebok Classics.
Shop the Story
Photo: Courtesy of the Retailer
Photo: Courtesy of the Retailer
Photo: Courtesy of the Retailer
If you buy something through our links, New York may earn an affiliate commission.