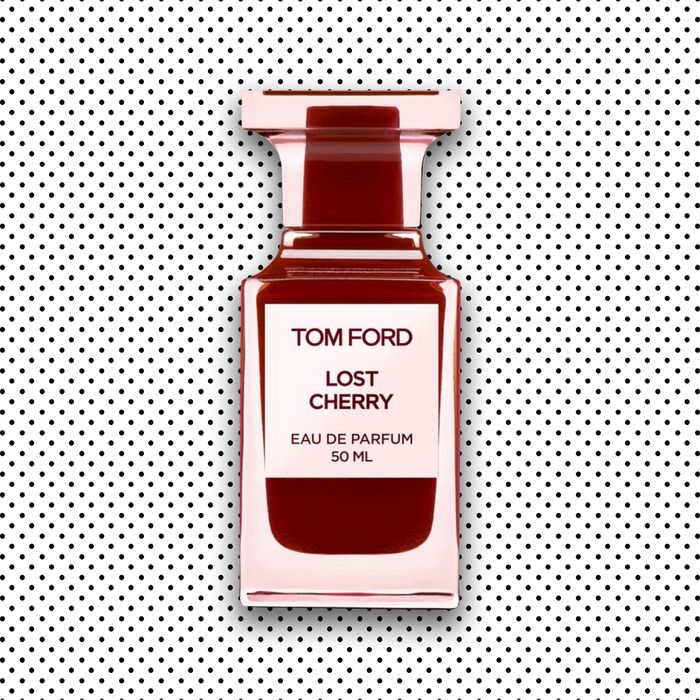 Photo: Courtesy of the Retailer
Oh Tom Ford, you're so naughty. Or are you? Invites for the designer's spring 2019 show came with a garnet-colored bottle of his newest perfume, Lost Cherry. The name sounds like a double entendre — until you smell it and realize it might be very literal.
Inhale a big whiff of Lost Cherry and you'll get fresh tobacco mixed with the candy-sweet scent of Luxardo Maraschino Cherries. It's one of the brand's first food-inspired fragrances, and one that straight-up smells like a syrupy, drippy dessert. You might smell it and think of Shirley Temples and cigarettes. Maybe you have an aunt who smokes and likes to bake cherry pies — this will recall her. Or maybe it'll remind you of a time you went to a bar wearing cherry Chapstick.
The scent's marketing material references "luscious flesh" and the "once-forbidden," adding that there are also notes of Turkish rose, sandalwood, and jasmine sambac which round out the fragrance. Despite this, I still find the cherry and tobacco notes to be most prominent.
Maybe the scent was inspired by a time when Tom Ford lost a batch of Bing cherries on his way from the grocery store and stood outside his New Mexico home smoking a single Gitane, trying to mentally retrace his steps. Or maybe it smells like a rite of passage, after all.