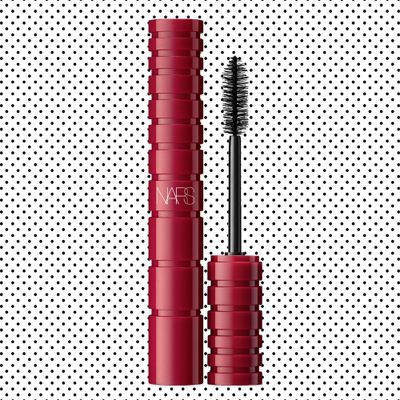 Photo: Courtesy of the Retailer
Don't stop. Keep going. NARS new mascara, Climax, wants to give it to you — it being long, fluffy, thick lashes that just go on and on and on. The brand describes Climax as containing a "full-bodied brush" with a "whipped, creamy formula that lifts and builds without clumping." Since launching earlier this month, it's received positive reviews at Sephora and Ulta. We had six New York Magazine writers put it to the test — here is their verdict on whether the mascara is faking it.
Erica Smith, Beauty Writer
If you, like me, enjoy a dramatic before/after situation when applying mascara and nothing else, you'll like this wand. There will be a noticeable difference (see: above, on the right eye). All of the descriptions and reviews I've read about Climax and its ginormous brush gush about the volumizing effects, but it's way better at lengthening. With one to two swipes, it got the ends of my lashes to hit above my eye crease, which was alarming in a good way.
Although the bristles weren't great at separating my lashes, the formula was smooth and lightweight enough that you could layer the product a good amount to get the look you want. You really can "keep going," as the description suggests. I had to stop myself. The end result is wispy and pretty, not crispy, so I'd recommend this. Just be forewarned that its talents lie in length rather than girth (that's what she said?), so adjust your expectations accordingly.
Kelly Conaboy, writer-at-large
As someone who used to exclusively use NARS Orgasm blush, I was excited to try this mascara because product names referencing sex do not intimidate me. While the blush is maybe supposed to re-create a natural post-orgasm flush, I am not sure thicker eyelashes are the result of a climax, but no matter. The thicker eyelashes it delivers are sexual, regardless.
Climax's big, fat brush is much bigger and fatter than the Maybelline Great Lash mascara brush I normally use, and both it and the mascara itself provide better lashes. You're supposed to be able to use this mascara without needing to curl your lashes. I found this to be true, the product raises the lashes nicely just by itself. I would absolutely swap out my normal mascara for this mascara daily (it's maybe supposed to be more of a nighttime mascara look but I like to go hard, eyelash-wise, at all times) if it were not for its one fatal flaw: It leaves mascara dust all over my face.
After wearing this for a night out, I looked in the mirror to find sleepy mascara owl-eyes and mascara dust face. It's a bummer. Of course I will continue to use it when I want my eyelashes to look extra sexual, but I will do so knowing that I need to never even think about touching my eyes and get home relatively early, the latter of which may be better for climax-related issues, anyway.
Hunter Harris, Vulture associate editor
I liked this mascara about as much as I liked the 2012 Usher song: It's … passable! After my usual application — two quick coats, sometimes a third at the tip for added length — I was surprised by how weightless this mascara felt on my lashes. Sometimes other mascaras make my lashes feel stiff pretty quickly, as if I can feel the product building up — that's satisfying, but it makes me wonder if it will smear faster. Climax, I'm happy to report, felt pleasantly light on my lashes throughout the morning. That said, I was turned off by the brush itself: It was basically a blunt instrument! It applied with about as much precision as my pinky finger. My mascara priority is maximizing length, and it took too much effort to get this brush to make the magic happen. I only have as many hours in a day as Beyoncé!
The biggest pro was the design of the tube: I have about 12 or 15 products in my makeup bag, and half of these are lip stains, sticks, and glosses, which makes pulling out my usual Clinique mascara a search-and-rescue mission. This bold red tube was really handy in the early morning when I don't feel like digging around.
Kathleen Hou, beauty director
On the day I applied Climax mascara, I posted a video of me drinking a fancy tea (with the puppy filter) to my Instagram Stories. All of my subsequent DMs weren't to yell at me for posting such boring content, but to ask me 1. When did I get eyelash extensions? 2. What mascara was I using? I'm not using any extensions, it was all Climax.
Yes, the brush is a little girthier than you might be used to (insert BDE joke here). But it's very bristly (NARS tells me they're "ribbed" — for your pleasure, I guess) so you can comb through your lashes to make them look extra-extra-long, fluffy, and defined (as Erica said, eye-crease level). When I really want my lashes to hold a curl, I tend to use a waterproof mascara, which has the unfortunate side effect of making them feeling a tad crispy and dry. Climax doesn't have that problem, it held curl from day to night and my lashes didn't look or feel fried. After seeing it remain very intact and smudge-proof post a 99-degree day and a workout class, this is officially my new favorite mascara.
Amanda Arnold, Staff Writer
I typically only wear mascara. Because my eyelashes are naturally very long (I'm lucky), I'm pretty picky with my mascara. NARS Climax did not disappoint. While I'm not exactly sure why the mascara was given a highly sensual name — perhaps something to do with the ribbed exterior? — I was extremely impressed with how smooth it felt going on, leaving no clumps at the base of my lashes. After wearing the mascara for a day in New York City's sweltering end-of-summer heat, I barely have any residue under my eyes, and my lashes still look remarkably long. Overall, I would buy.
Lisa Ryan, senior writer
My makeup routine tends to be limited to concealer (and by that I mean, lots and lots to cover my under-eye circles), BB cream, and some blush. Mascara isn't something I generally use, or even really think is necessary. But this mascara was a game-changer. My lashes looked natural, defined, and didn't need to be separated. I've tried so many mascaras that have glued together my lashes into clumps, but this one made my lashes look bigger and more voluminous, all without looking caked on. I loved the way the mascara looked and felt (and it was easy to get off at the end of the night, thank God). I'll definitely be adding it to my limited makeup routine.
If you buy something through our links, New York may earn an affiliate commission.