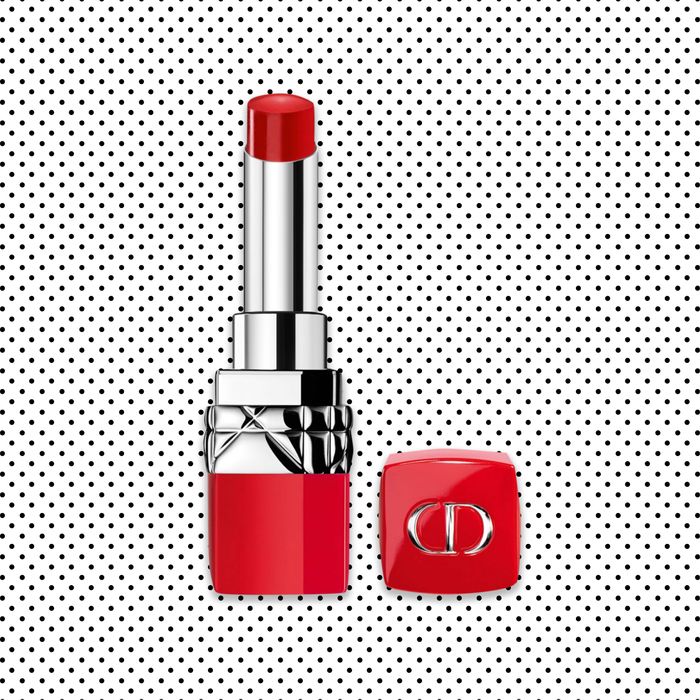 Photo: Courtesy of the Retailer
A red lipstick that looks good on everyone who tries it: Like the very existence of Noah Centineo, it sounds too good to be true. But in the beauty world, there are rumors of particular shades of red that anyone can wear — like Dior's 999. We distributed samples of the shade in the new Rouge Ultra Rouge formula to seven New York magazine writers. Here's what they thought of the lipstick's color, texture, and longevity (Dior swears it lasts up to 12 hours.)
Madeleine Aggeler, Staff Writer
The day I wore this lipstick to work, my colleagues were shocked by how good I looked. A little too shocked, honestly? I generally try to look okay at work but I guess I wasn't succeeding until I wore this. People did double-takes like cartoon characters. Their eyes got really big and steam came out of their ears and they said things like "Oh my God, I love your lipstick!" or "That lipstick!" or sometimes just "Lipstick!!!!"
At first I was worried that the red would be too bright for me, but now I see this is the One True Red I am meant to wear for the rest of my life. It is also hands down the longest-lasting lipstick I have ever worn. I put some on in the morning before going to the office and didn't have to reapply it once, even though I spent the whole day munching on vending-machine chips and sipping various teas. It goes on kind of thick, but after you blot it a bit, it feels more like a stain. I loved how it felt, I loved how it looked, but most of all I loved the external validation.
Kathleen Hou, Beauty Director
My first impression of this lipstick was it didn't feel like one at all. It felt super-soft, almost like Chapstick, without the powdery, creamy feel of a typical lipstick. It was kind of mushy to apply and the color lay on top of my lips. I did love how balanced the 999 red looked — it's a nice red that isn't too orange or blue.
Then I blotted my lips once, and I got it. This lipstick is actually a stain! One blot transformed it into a pretty wash of color that effortlessly molded to my lip's contours, making them look fuller and more alive.
The other great thing about this is its staying power. I put it on before a dinner and it didn't even leave lip prints on my wineglass. Dior calls it a hydra lipstick, like the famously durable nine-headed monster that Hercules slays in Greek mythology, and while it might not have nine heads, it definitely lasted almost nine hours.
Erica Smith, Beauty Writer
Don't expect this product to act like a regular lipstick. Really, it's more like a hybrid between a solid and liquid lipstick — a small distinction, but it explains how the formula feels on your face.
During the application process, I had to go over my lips a few times to get the opacity I wanted. But after blotting, it still felt nice and light. It reminded me of that clingy feeling you get with a matte liquid lipstick, but less intense and way more moisturizing. I could still rub my lips together without them sticking or flaking. The texture takes some getting used to, but I think I'd put up with it every now and then for Ultra Rouge's wide color selection and staying power.
I'm also glad 999 didn't let me down. I usually go for darker, deeper reds so I was hesitant about this bright cherry shade, but I found it surprisingly wearable was with my skin tone. And I'm convinced the cooler undertones make my teeth look whiter.
Morgan Sykes, Snapchat Editorial Assistant
I am definitely more of an eye makeup kind of girl, so this red is a step outside my comfort zone — but it might make me shake up my routine. First of all, I love the color: it's cool and strawberry-toned, sort of reminiscent of M.A.C's Ruby Woo (another "looks good on everyone" shade). The formula feels a tiny bit sticky but light, and settles on like a stain. It stayed put for one travel mug's worth of tea during my commute, one in-office latte, oatmeal, and a sandwich for lunch — with only minor touch-ups required.
The cons? I don't love the tube, as it was difficult for me to dispense the color evenly around my lip corners (I ended up having to use a pinkie finger to precisely apply it there and around the cupid's bow). Also, the texture is a bit drying over time, though it could be a lot worse. All in all, though, this is a pretty and practical lipstick.
Lisa Ryan, Senior Writer
This lipstick went on super bright. Actually, it was probably a normal shade of red, the kind one would want with a red lip, but it made me feel self-conscious because I don't wear much makeup. Once I blotted it a bit, it turned into the ideal, not-too-red color I was looking for.
Then, I wore it out on a night out to see if it would last — and it did! The lipstick stayed on through an event uptown, seeing my friend's band, and then eating my weight in late-night food. That never happens with my lip colors. I like this lip.
Kelly Conaboy, Writer-at-Large
The lipstick has an interesting, springy tube. That's the first thing I noticed. I'd say it's not an improvement on a normal tube, but it is a novelty, and novelties can be nice. After applying the lipstick, which was very color-dense, I blotted it with a tissue, which made it much easier to wear. It also looked a little bit like I'd just had a red popsicle.
The color is fine for me in a pinch. I guess if you're attempting to make a color that looks good on everyone, then logic dictates that there have to be some people that it only looks fine on. I accept my place as one of those people. It's supposed to last 12 hours but I would say that it lasts nowhere near this amount of time. I wore it to a movie and I didn't have it on when I exited the movie (but I also had a margarita during it).
Maybe it lasts 12 hours if you're just sitting in a 12-hour meeting, or if you have lips that work better with this lipstick. Or maybe I blotted it too much? You're only supposed to blot once, but it looked a little tie-dye so I blotted a little bit more. It is very possible I did too much blotting.
Katie Klein, Snapchat Motion Graphics
I put two coats of this on my lips Friday before heading out to work and blotted for more of a stain effect. I like the color a lot and thought the wear was very comfortable and didn't dry me out at all. I admit that by lunch, the center of my lips had faded — so it was maybe 5–6 hours of good wear?
In hindsight, I think this lipstick looks better when it wears over time to become a light stain, rather than with the initial, full-color-payoff red you get straight out of the tube. I usually lean toward more blue-toned reds, but I can see this being very universal and user-friendly.
If you buy something through our links, New York may earn an affiliate commission.