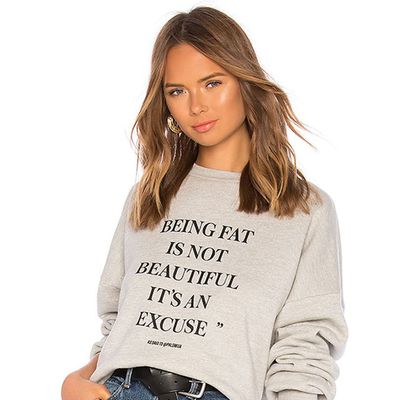 Revolve sweatshirt.
Photo: REVOLVE
When the retailers Revolve and LPA collaborated and released a sweatshirt that read, "BEING FAT IS NOT BEAUTIFUL IT'S AN EXCUSE" — and marketed it on a skinny model, no less — they were quickly and unsurprisingly slammed for "fat-shaming." What came next was less predictable: The brands insisted that the sweatshirt was meant to be empowering, as part of an inclusivity initiative that clearly did not roll out as intended.
Below, a guide to all the drama surrounding the PR nightmare.
So … what was the sweatshirt?
On Wednesday morning, images of Revolve and LPA's new collaboration appeared on the Revolve website, including the controversial sweatshirt in question. The phrase "BEING FAT IS NOT BEAUTIFUL IT'S AN EXCUSE" on its own was enough to offend; the fact that the model wearing it was thin added insult to injury.
The sweatshirts were apparently created by a group of celebrities and influencers, including Lena Dunham, Emily Ratajkowski, Cara Delevingne, Suki Waterhouse, and Paloma Elsesser, alongside LPA. Their intent, according to a statement Revolve, was to comment on the modern-day "normality" of cyberbullying; the sweatshirts contained comments each celebrity had received from trolls online. (Suki Waterhouse's read "IF YOU TRANSLATED A BUM ONTO HER FACE, SHE'D HAVE A BETTER FACE," for instance, and Emily Ratajkowski's was "SLUT FEMINIST NIGHTMARE.") The "BEING FAT IS NOT BEAUTIFUL" sweatshirt was based on a comment someone had made to Elsesser — though, out of context, its intended message clearly did not translate.
Seems like a really bad idea.
It has been heavily criticized! So much that Revolve pulled the entire collection just hours after it appeared on online.
Before Revolve removed it from its website, though, plus-size model Tess Holliday took a screenshot of the sweatshirt and tweeted it with the text, "LOLLLLL @REVOLVE y'all are a mess." And she wasn't the only one to call out the garment.
How did Revolve … not see this coming?
In a statement released to People on Wednesday, Revolve explained that the collection had been released a day early, and without any context, and was actually supposed to send the message on inclusivity.
Clearly, it didn't go over as anticipated. In the statement, Revolve shone a light on the creators' thought process, but expressed regret over the way it was released and perceived.
"The prematurely released images featured on Revolve.com was not only included without context of the overall campaign but regrettably featured one of the pieces on a model who's size was not reflective of the piece's commentary on body positivity," the statement reads. "We at Revolve sincerely apologize to all those involved — particularly Lena, Emily, Cara, Suki and Paloma — our loyal customers, and the community as a whole for this error."
Following the backlash and its announcement that it would pull the collection, Revolve said it would donate $20,000 to Girls Write Now, a nonprofit organization that works with under-served girls in New York City public schools.
How are the celebrities involved with the collaboration taking this?
Just hours after the collection's release, London-based artist Florence Given criticized the sweatshirt on Instagram, posting a screenshot of the piece with the caption, "@revolve Selling fatphobia to rich skinny women at £162 a pop? Am I missing something? HOW is this okay? I'm confused." Soon after, she claimed that Paloma Elsesser had reached out to her, saying that she was "MORTIFIED about how this quote has been used, and is asking for her quote to be pulled."
On Sunday, Elsesser opened up about her negative experience on Instagram, writing that she regretted participating in the first place; now, she's left feeling "so angry and upset about having, even remotely, been attached to something so problematic and distant from my true ethos and practice."
"We must always take responsibility for our part, but as women we also have to call out when we've been taken advantage of: in no way was I involved in the marketing, the layout of the sweatshirt, or any other part of this project," she continued. "I am disgusted with the ignorance of what transpired, and I denounce any involvement with Revolve (which I had no idea the sweatshirt would be sold through) and LPA, as well as their shocking lack of thoughtfulness about the nuanced pain that this rhetoric addresses."
Lena Dunham also joined the discourse on her own Instagram Stories, writing that she found the whole thing to be "inexcusable." She said that she had been working for months on "sweatshirts that highlight quotes from prominent women who have experienced internet trolling & abuse" with her friend and LPA founder Pia Arribo, and that she was disappointed in Revolve's oversight regarding the models and marketing.
"Without consulting me or any of the women involved, @revolve presented the sweatshirts on thin white women, never thinking about the fact that difference and individuality is what gets you punished on the internet, or that lack of diversity in representation is a huge part of the problem (in fact, the problem itself.)," Dunham wrote, per W. She then promised to make donations to "the charities of choice of women who felt equally wronged."
Arribo too issued apologies on Instagram, both on LPA's and her personal account. On the former, she said the brand had faltered "in my own lack of communication that lead to how the collection was portrayed on Revolve.com and the pre-mature release of the e-commerce imagery, a day prior to the launch;" on her personal Instagram, she spoke about having had an overwhelming past year, which turned her into a "frantic person."
"I didn't listen to my insides, I didn't slow down and I got off track. I am horrified, overwhelmed and deeply sorry," she wrote. "It is my job to gain as much from my recent losses as my past victories and to gracefully surrender. I hope all of you who have followed me and my journey the last few years remain confident in who I am as a person, and to those I have lost that one day we find ourselves connected again."
This post has been updated.