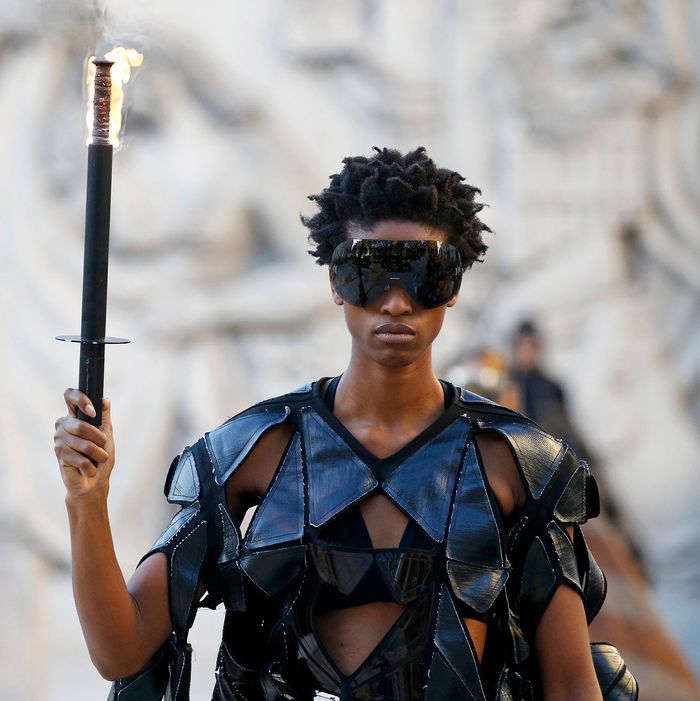 Rick Owens spring 2019.
Photo: Estrop/Getty Images
As Americans spent the morning glued to their screens watching the testimony of Professor Christine Blasey Ford, who accused Judge Brett Kavanaugh of sexual assault during his Supreme Court confirmation hearing, fashion month marched on in Paris, France.
It's hard to know how to treat the subject of fashion shows during a time like this. For some, it's best ignored. For others, it offers a much-needed escape. If you're in the mood for an artful distraction, designer Rick Owens might be able to help.
Guests arrived to find a flaming A-line structure in the middle of the Rick Owens runway on Thursday afternoon. The first model walked wearing armorlike clothing and giant sunglasses and carrying a flaming torch. The whole collection was full of hard fabrics and sharp edges — it looked tough, anarchist, and totally insane. (In a good way.)
Owens couldn't possibly have known what was going to happen today as he was designing his collection, but it is possible that he picked up on a mood that's been percolating all year. Or maybe this was just his version of Burning Man. Either way, you're free to make of it what you will.