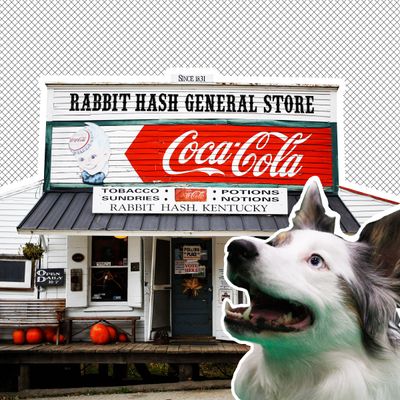 (Lucy Lou not pictured.)
Photo: Getty Images
It was brought to our attention today, by the New York Post via the Associated Press, that on September 10, 2018, Rabbit Hash, Kentucky's first female mayor died. A sad occasion, indeed, made more notable by the fact that instead of being a human, this mayor was a dog. A 12-year-old border collie named Lucy Lou, to be precise:
The collie was elected as the Ohio River town's third canine mayor. She also served as spokesdog for a woman's crisis center.




She served from 2008 to 2016, when she voluntarily stepped down to raise funds to rebuild the historic general store ravaged by fire.
This dog also ran for president. She was very impressive and, of course, we love her and miss her forever. Here is a very sweet tweet about her from Cincinnati's WLWT News:
Oddly, the story in the New York Post — while explaining that this dog had been on Japanese TV and also CBS Sunday Morning — did not give much detail with regard to why this town has had multiple dog mayors. According to Rabbit Hash's Wikipedia (which also does not explain the dog mayors and instead just has a section titled "Canine Mayors" in which the mayors are detailed), the town's first mayor was inaugurated in 1998 for a four-year term, and that mayor was a dog named Goofy Borneman-Calhoun. He died in office in 2001 at the age of 16.
The next mayor was also a dog: a black Labrador named Junior Cochran. The Wikipedia page states, "Junior came under the scrutiny of the Northern Kentucky Health Department and was banned from entering the town's General Store due to complaints." This story was covered by Louisville's Fox 19 under the headline "Rabbit Hash Mayor Banned From Businesses." It (please read it) includes this quote:
"He's the mayor of Rabbit Hash. How in the hell? This is his courthouse," said one man sitting outside the town's general store.
And this one:
"You're a good boy," said Randy Cochran, petting Junior on the front porch of his Rabbit Hash home. "Even if they won't let you go in your store. Never bit anybody."
Junior Cochran was not allowed in the store because it sold food, allegedly, which I personally find outrageous, as he was the mayor. He died in office in 2008 and was replaced by Lucy Lou, our sweet friend who just died.
Lucy Lou was the only mayor to not die in office; she retired in 2016. "Mayor Lucy Lou said that she has has been honored to serve for the past 8 years," says the town's historical society website. "Through the course of a tense evening of voting she sniffed the butts of all the candidates and has given her approval to the Mayor elect, Brynn. She looks forward to working with the new mayor and the Ambassadors as Rabbit Hash strives to restore the General Store." The General Store (notably, the very same store that banned her predecessor), built in 1831, was placed on the National Register of Historic Places in 1989, and burned down in February of 2016. The election of Brynn, full name Brynneth Pawltro, raised $3,367 for its restoration.
To explain: In order to vote in Rabbit Hash, which is an unincorporated community in Boone County, Kentucky, and as such does not demand a human mayor, you pay $1 — and you can "vote" as many times as you want. Incredible. But why do they have dog mayors? Let's return to that Fox 19 article:
Several years ago someone thought electing an honorary mayor would be a good way to raise money for the town.
Huh, yep, that sounds pretty good to me. The historical society website says, of Rabbit Hash: "The name is contagious. The place is therapeutic. Someone once commented that Rabbit Hash is not just a little river town, it's a state of mind." It certainly seems that way. I'm happy we could learn about it together today, mostly through its Wikipedia.
This post has been updated to clarify that the Post article was from the Associated Press.