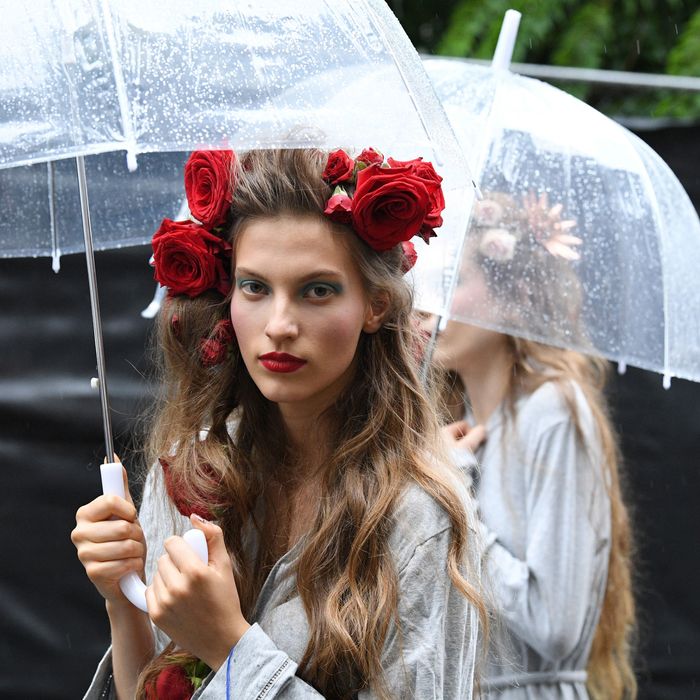 A Rodarte model before the show.
Photo: Slaven Vlasic/Getty Images
The invitation to Rodarte's first New York Fashion Week show in two years read in part, "Please note the Rodarte SS19 fashion show will take place at an uncovered outside garden and guests should dress accordingly." Ominous. A wet graveyard on East 2nd Street is not a typical Fashion Week venue, and steady falling rain is not necessarily a welcome backdrop.
Guests including Kim Gordon, Grace Coddington, and Brie Larson were handed clear plastic umbrellas at The New York City Marble Cemetery's wire gates. A team of publicists rushed around the venue to wipe off chairs seconds before people sat down (to minimize damage to everyone's outfits) and naturally, there was some grumbling in the damp crowd. Some guests worried for the models, eyeing the runway's wet metal slats, which were also quickly squeegeed.
Once the show started, though, the gloomy weather turned into an unexpectedly welcome prop rather than a nuisance. Rodarte's signature, hauntingly glamorous lady-of-the-manor vibe was elevated in the rain. It felt like the climax of a movie where the heroine (a Scarlett O'Hara or Kirsten Dunst type, perhaps) is left alone in the downpour to contemplate her situation. The soundtrack, Chet Baker's "I Get Along Without You Very Well," turned the show into a true cinematic experience. While Baker crooned on the speakers, the audience was lulled into the rhythm of the show and largely ignored the rain.
I get along without you very well

Of course I do

Except when soft rains fall

And drip from leaves that I recall

The thrill of being sheltered in your arms
Designers Kate and Laura Mulleavy's return reminded showgoers what Rodarte does well. The clothes had a distinct '80s-party-girl vibe: turquoise eye shadow, large bows, and exaggerated shoulders. In the cemetery, models looked like resurrected socialites, starlets, and brides in their lacy, sparkly, floral best. Roses elegantly drooped from their hair, underscoring the ephemeral beauty of the show. Party-girl fame is fleeting, blooms are fleeting, and so is the rain.