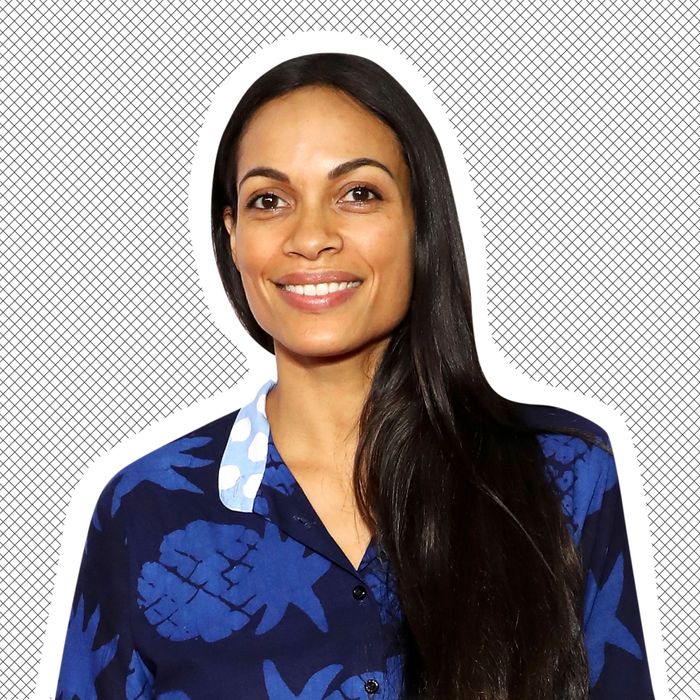 Rosario Dawson.
Photo: Cindy Ord/Getty Images for Tribeca TV Festival
Rosario Dawson is nothing short of a Renaissance woman. With a slate of titles on her IMDb page — from Rent to Jessica Jones to Luke Cage — Dawson has emerged as a prominent political activist, co-founding the civic media organization VotoLatino and helping with voter registration campaigns. She's also a fashion designer who launched a clothing label made by West African artisans using sustainable materials. And now, she's taken on a director role, set to release a short film for Google in December designed to empower young girls in science and tech.
It makes sense, then, why Dawson stars in Tumi's fall campaign, in which she embodies a variety of personas as she traverses the globe. Currently filming a television pilot called Briarpatch, where she stars as an investigator returning to her Texas hometown after her sister is murdered, Dawson sat down with another actor and activist, Laverne Cox, as part of this year's Tribeca TV Festival "Tribeca Talks."
The two discussed meeting while Cox was singing opera on a photo shoot, and the public's misconceptions of poor communities of color; Cox was on Medicaid for years, while Dawson was raised by a teenage mother on the Lower East Side in the '80s — where she was discovered on the streets by Harmony Korine for her breakout role in Kids.
Dawson told the audience — which included her mom — about how she helped change the script for a scene in Luke Cage, to include the struggle of black women in a conversation about racism. "It is a tool of oppression to pit marginalized people against each other," Cox said to applause. After the talk, Dawson sat down with the Cut to talk getting aggressive, learning to let go, and, of course, Cardi B.
A lot of people I spoke to after the talk thought it was refreshing that you're so unabashedly political.
Hell yeah. I think it's because we keep forgetting what politics really are — what gets on television, what stories we're told, how those stories are framed. All that stuff is political.
There's an access through online that's allowing people to talk directly to each other and question things, and you don't have to be stuck with whatever answer your teacher or your dad or your television gave you. The one thing about knowledge is you can't un-know what you know. Once you know something, that's it. That cannot be taken away from you.
On the one hand, we have all this access, but then we're dealing with the spread of misinformation by our own government.
If Kavanaugh gets in, that would mean a third of our Supreme Court Justices are men who have been accused of sexual misconduct. One Billion Rising came out with the statistic that one in three women will be raped, killed, or beaten in their lifetime. How is that okay? It's not. But that is where we are. So how do we address that, and rectify it? We can't fall apart and feel hopeless. We were told under Bush during the Iraq War not to look at a map and understand our history in the Middle East and things like imperialism, colonialism … we were told to go shopping. And people were like, phew, sweet, for a second there I thought people were gonna tell me to go look at a map. Thank goodness, I was so stressed out — I just needed to get duct tape.
How have you been reconciling with our political moment?
This last election, I got really angry, because I saw it coming. I've been doing voter registration, I've been traveling this country, I've been watching the gerrymandering, the redistricting — you're putting two 30-year brands against each other. I've been in New York, I've watched this man keep rising, bankruptcy after bankruptcy. He is literally the epitome of white privilege.
The hypocrisy on both sides, the digging your heels in, the tug-of-war is not progress. The regeneration, the persistence — that's what needs to be the champion conversation. That's why I look to movements like Standing Rock. The powers that be will say Standing Rock failed. But how has it failed if you say Standing Rock to almost anybody around the world, and they know what you're talking about? That is huge. These are stories of survival, and thriving, and power. We need to change how they're told.
How do you feel your career choices have reflected that desire to change the narrative? 
I've always pushed hard on the roles I was given, even if they were stereotypical roles, to embed some empathetic perspective into it. That crackhead, that prostitute, that girlfriend role — I want people to go, yeah, I feel that person, I get why they made those choices, why they might keep choosing drugs rather than getting better. And maybe that will make you feel differently when you pass that homeless person on the street.
When I talk to someone and they're like, I don't like giving homeless people money because they might buy drugs or alcohol with it, I'm like, You are going to buy drugs or alcohol, you're gonna have that glass of wine. Who needs it more? These weird judgments that we have — where do they come from?
On Briarpatch, you're finally playing the lead. What's it like being front and center?
This character, who's so poised, contained, in control, is using all these survival tools to live in a man's world. I was really grappling with it, because I'm finally pushing through that as an adult now, and really allowing myself my vulnerability. It was very familiar to portray that, but really uncomfortable. It brought up a lot.
What did that vulnerability look like for you?
When Eve Ensler was presented an award by Men Stopping Rape, she said, when we don't allow boys to be vulnerable and cry, what happens is those tears harden and become bullets. That never left me. It's not just something we do to boys — we all disallow ourselves to be vulnerable.  
I hit a wall with that. It's the reason I got so angry and so depressed the last couple of years. I was raised by martyrs. My grandmother didn't eat food much because she had five kids to feed and she was a single teenage parent. When you look back at pictures of her, she was emaciated, just surviving on Bustelo and cigarettes. It was always, "Do more, be more."
I got to a point where I physically couldn't do more. Starting to meditate, putting my mask on first before I help others, giving myself the time, taking that walk — it's all been so critical. I was taught my whole life to survive, but I don't want to survive. I want to learn some survival skills in case of a zombie apocalypse, but I don't want to go through my whole life surviving.
Why do you think you decided to look at things differently?
It was a lot of things. My cousin died when she was 26 years old, and I found her in my home. After Vaneza's passing, when TMZ and BET put out the 911 call, we were all horrified. Her family was really upset, but I said, it's public record. I cannot do anything about that. That was a huge beginning for me to start admitting defeat, to sit back and say, where else am I jumping to control something that I cannot control? This is how the world was before I got here, and the world's gonna be going long after I'm here. Who knows what my mark will be, but while you're here, be here. I'm not a machine, I'm a person. I feel and I flow. If I'm here for a short period of time, I'm gonna enjoy the sunset. Enjoy looking at someone in the eye and recognizing a facial expression. Enjoy being moved to tears. That's a beautiful thing. I want all that for my daughter.
Has that been a particular challenge for you as a parent, having been raised so differently?
I want my daughter to cry when she needs to cry. I want her to be in her honesty, in her space. That's hard for her — she came through foster care and has a lot of trauma. I didn't have a baby that I could blossom from the beginning, and use all the privilege and success that I have to cocoon her in all of that beauty. I had a full person come into my home at age 11. All the things that I want to share with her, they're her choices. She's her own person. That can be really hard.
And now you're making a short film for young girls, too.
I just directed my first short, and it was the first time in a long time that I felt really lit up. I don't even know if I'm supposed to be talking about it, but I don't care because I'm so excited. I injected anything and everything I have into this. I have Studio One Eighty Nine clothes in there, I do a cameo in one minute, and I'm like, "Time's up, ready girls?" I shot it in a tree house because I didn't want science to be about these girls not being in nature. Everything that I really care about, every social-justice issue, I worked into this. I've worked with so few female directors, and you can see that with the crew — people are like, does she really know what she's doing? But to be able to give everybody confidence and give them answers and not make people cry, hopefully, was just incredible. There are some stories I really want to tell. That's where I really want to be.
I was one of those Rentheads as a kid — singing "Out Tonight" in the shower…
My daughter's got big, beautiful curly hair — she doesn't know, but I am absolutely cultivating her to be the next great Mimi. That's totally an agenda.
It's amazing to me how everyone has been so moved by a stripper. The only time when it's okay to be liked as a stripper is in, like, Pretty Woman, where it's a gorgeous white woman — it can't be the trans version, or the marginalized Latina, poverty-stricken, drug addict, HIV-carrying version. It's so incredible, in our moment, to see folks like Cardi B out there, where she's like, I challenge you on what you think I'm capable of and what you think my value is. And I raise you this!
Would you want to go get drinks with Cardi?
Oh hell yeah. I have not met her, but I'm obsessed with her. I was following her on Instagram before everybody. I even at one point had to turn it off because I was so distracted by it and was laughing so much. Whenever I see her about to go live, I'm like, 'That's right, girl, taxes are bullshit.'
This interview has been edited and condensed.